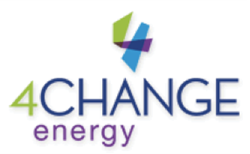 Dallas, TX (PRWEB) November 19, 2013
The fall season brings sweeping change across the Lone Star state each year. From changing leaves to cooler temperatures, it's impossible not to notice the crisp change that's in the air. With this change comes seasonal warmth that fills the homes of families all over the state. What better time to be the change in the community and begin making electricity do more than previously thought? Discover the difference of 4Change Energy today!
4Change Energy is an electric company unlike any other in the state of Texas. So often consumers don't even think about their energy consumption. Well, 4Change Energy allows consumers to feel great about what their energy is doing by partnering with local charities to enact change in communities across the state!
4Change Energy donates 4% of its profits each year to local chapters of the Texas Food Bank Network, the American Red Cross, Heroes for Children and the American Cancer Society. Best of all, they put the power in the hands of their customers by allowing them to choose which organization their energy bill will help support. 4Change Energy is committed to letting its customers' monthly electricity usage ultimately empower the lives of others in their communities.
The difference of 4Change Energy does not stop with its charitable efforts, however. Customers of 4Change Energy enjoy simplified services while avoiding unnecessary costs, confusion and lost time. Along with electric service, customers enjoy an expansive online service platform, streamlined customer service and referral benefits! Never before has energy had this much power.
From Dallas and Fort Worth to Houston and Corpus Christi, 4Change Energy is the best option for consumers wanting to give back to the community while enjoying easy customer service with competitive rates. Now is the time for change – make it a Fall4Change today!
Check rates in Texas today by visiting 4Change Energy!
Connect with 4Change Energy on Facebook, Twitter and Google+ for energy saving tips this season!
About 4Change Energy: 4Change Energy, built on decades of industry experience, innovation and inspiration, is founded on the idea that electricity service should be affordable and support those in great need in our communities. It offers low-price service plans, simplified customer service and a commitment to support local charities.