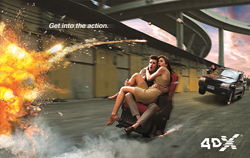 "The growing number of 4DX titles means that 4DX is recognized as a mainstream option for moviegoers seeking the most immersive cinema experiences available," said Byung-Hwan Choi, CEO of CJ 4DPLEX
Seoul and Los Angeles (PRWEB) February 08, 2017
CJ 4DPLEX, the world's leading 4D cinema company, has been changing the worldwide moviegoing paradigm from "viewing" to "experiencing" – bringing more moviegoers, especially action blockbuster lovers, back to the multiplex and away from their couches.
Following a successful performance last year with the world's top-ranked blockbusters, 4DX enhanced experience – featuring moving seats and environmental effects such as wind, rain, lightning, snow and a variety of scents – has emerged as a sensational trend, which gives an opportunity to blockbuster movie fans to not only watch a movie but be a part of it.
As a result of in-depth discussions with major studios worldwide, CJ 4DPLEX has today revealed a remarkable line-up of films – including most of the world's biggest blockbusters – to be available in the 4DX format, which is currently available in more than 360 auditoriums spanning 44 countries around the world. These new global studio releases, premiering in various regions around the world during the first half of 2017, include the following titles:
Sony Pictures

Resident Evil: The Final Chapter
Warner Bros. Pictures

The LEGO Batman Movie
Kong: Skull Island
Lionsgate

Paramount

xXx: Return of Xander Cage
Monster Trucks
Walt Disney Studios Motion Pictures

Beauty and the Beast
Pirates of the Caribbean: Dead Men Tell No Tales
Guardians of the Galaxy Vol.2
20th Century Fox

Logan
The Boss Baby
War for the Planet of the Apes
Enjoy Movies

Guardians (Zashchitniki; Russian)
In 2016 alone, more than 100 titles were screened in 4DX – an increase of 30 percent from the 72 titles available in 2015. This trend is expected to continue into 2017 with the above titles.
Blockbusters that encompass action adventure, superhero, fantasy, and sci-fi genres were among the most popular. For example, Resident Evil: The Final Chapter premiered in Japan last year and passed 75 percent average occupancy in the first screening weekend, and anticipation is high for the 4DX version as the film continues its worldwide rollout. Additionally, following 2013's The Wolverine, which was available in 4DX across 12 countries, Logan is the third and final standalone Wolverine film to star Hugh Jackman. The previous film in the series attracted an enthusiastic response from moviegoers, especially in Brazil, where it recorded a 92 percent occupancy rate during its opening weekend.
The 2017 4DX line-up not only includes hit Hollywood franchises, but also local films in other markets. Previously, most of 4DX's hit movies were Hollywood blockbusters, but CJ 4DPLEX has been expanding its collaboration with local filmmakers and studios in order to diversify its content line-up. As a result, 4DX will screen the highly anticipated Russian superhero movie Guardians (Zashchitniki) in Russia and Vietnam in February.
"We are thrilled to be showing a line-up featuring the most exciting action films to kick off 2017. 4DX maintains close relationships with Hollywood studios and continually receives blockbuster content to be released in 4DX – something that is increasing as more creatives and studio partners see our potential as a powerful new driver of theatre audiences," said Byung-Hwan Choi, CEO of CJ 4DPLEX. "The growing number of 4DX titles means that 4DX is recognized as a mainstream option for moviegoers seeking the most immersive cinema experiences available."
Top 4DX Titles of 2016:
In 2016, the top five 4DX titles for the year were: Fantastic Beasts and Where to Find Them, Doctor Strange, Captain America: Civil War, Batman V Superman: Dawn of Justice and Suicide Squad. In fact:
Batman v Superman: Dawn of Justice recorded an occupancy rate of more than 90 percent during its opening weekend in the U.S., Turkey, Swaziland, South Africa, Romania;
Captain America: Civil War passed 70 percent average occupancy in the first screening weekend across 37 countries; and
Doctor Strange had a sensational opening weekend, selling out of 4DX tickets in Canada.
Other films in these genres among the top 20 4DX titles in 2016 were Star Trek Beyond, Teenage Mutant Ninja Turtles: Out of the Shadows, Rogue One: A Star Wars Story, Independence Day: Resurgence, Deadpool and X-Men: Apocalypse.
About CJ 4DPLEX
CJ 4DPLEX is the world's first 4D cinema company, headquartered in Seoul with international offices in Los Angeles and Beijing. The company created 4DX, the first and leading 4D cinema technology for feature films, providing moviegoers with an immersive cinematic experience that utilizes all five senses, allowing the audience to connect with movies with motion, vibration, water, wind, snow, lightning, scents, and other special effects that enhance the visuals on-screen. CJ 4DPLEX brings 4DX auditoriums to exhibition partners along with 4DX codes of both major Hollywood blockbusters and local titles. Each auditorium incorporates motion-based seating synchronized with over 20 different effects and optimized by a team of skilled editors, maximizing the feeling of immersion within the movie, beyond the limits of audio and video. Since 2009, more than 400 Hollywood titles have been screened in 4DX. As of February 2017, 4DX reaches over 44,000 seats in operation at more than 360 auditoriums in 44 countries. For more information, please visit http://www.cj4dx.com.