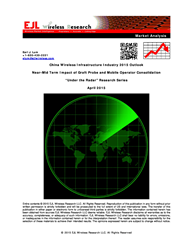 Three BTS OEMs have the greatest exposure: Alcatel-Lucent, Huawei Technologies, and ZTE.
Salem, NH (PRWEB) April 20, 2015
EJL Wireless Research is announcing a new report that analyzes the near and mid term impact on the global wireless telecom infrastructure market due to the current grafting probe in China.
"We have analyzed the current grafting probe in China and we believe that the impact on the wireless telecom sector is far more severe than the industry is currently anticipating and may have significant consequences for key wireless OEMs. Our current outlook for the situation in China has shifted from being a bright star in the wireless universe to one that has gone supernova and is now a tremendous black hole. The 4G party is prematurely over in China until the situation has stabilized and operations return to a new normal in China. Wireless equipment demand has sharply declined since the middle of Q1 2015 and our current outlook for Q2 and the second half of 2015 is cautious with an extremely negative bias," said founder and President, Earl Lum.
"The wireless infrastructure equipment ecosystem has suffered through a feast and famine situation since early 2014 due to the roll out of 4G TDD-LTE by China Mobile. This has severely strained the supply chain within the industry as double and triple bookings and expedited orders have been replaced with order push outs and cancellations. Our analysis reveals that three base station equipment OEMs have the greatest exposure from the slowdown in China. They are Alcatel-Lucent, Huawei Technologies, and ZTE. There are also two key RF semiconductor suppliers that have significant risk and exposure. They are Freescale Semiconductor and NXP Semiconductors," says Lum.
EJL Wireless Research continues to lead the wireless market research segment with innovative and cutting edge research such as its "Under the Radar" series of products.
The report is currently available for purchase and information can be downloaded at http://www.ejlwireless.com.
About EJL Wireless Research
EJL Wireless Research provides proprietary, accurate and cutting-edge market analysis and consulting services on the wireless technology ecosystem and defense and aerospace industries. The firm's wireless infrastructure research division focuses on all vertical elements of the wireless ecosystem including mobile subscribers, mobile operators, mobile handsets, mobile infrastructure and mobile content. In addition, the firm provides analysis across horizontal technology suppliers including RF semiconductor materials, RF semiconductor/components, subsystems and OEMs. Similarly, the defense and aerospace division focuses it efforts on the ecosystem supporting UAV and airborne platforms and subsystems. Our goal is to provide our clients with mission critical market analysis and information.
EJL Wireless Research believes it has a corporate responsibility, both local and international, in giving back to the community. Please visit our website for more information about the charitable organizations it supports at: http://www.ejlwireless.com/corporate_responsibility.html.
EJL Wireless Research is managed by Earl Lum. Mr. Lum has over 20 years of experience within the wireless industry including 8 years as an Equity Research Analyst on Wall Street cover the global wireless industry. The company is headquartered in Salem, NH. For more information about EJL Wireless Research, please visit the company's websites at http://www.ejlwireless.com or http://www.ejldefense.com.
###