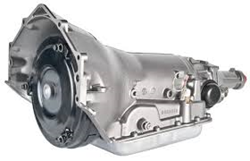 The team in place at our company is comprised of industry experts who know and understand the manual and electronic technologies found in all GM gearboxes to assure all buyers that they can purchase a quality OEM unit that is rebuilt correctly
Pittsburgh, Pennsylvania (PRWEB) October 26, 2013
General Motors' transmission units remain some of the most popular replacement parts that retailers sell on the secondary market. One rebuilding company of gearboxes online is now adding a popular unit that can be hard to find through other resources. The http://powertrainpros.com company is now adding its 4L60E transmission in rebuilt condition for immediate sale to buyers.
These electronic controlled transmission units, currently available as reconditioned, are units that are offered to fit inside a range of GM produced vehicles. Many of the 1980s through early 2000s units from Chevy and GMC vehicles utilize the 4L60E units.
The remanufacturing efforts that are provided by the Powertrain Pros company are set up to help keep costs low for replacement transmission buyers.
"The team in place at our company is comprised of industry experts who know and understand the manual and electronic technologies found in all GM gearboxes to assure all buyers that they can purchase a quality OEM unit that is rebuilt correctly," said a source from the Powertrain Pros company.
The addition of the electronic controlled units that are being rebuilt for U.S.-based consumers is expected to grow the company business this year. Consumers who seek out a replacement transmission usually make a decision to purchase a new or previously owned unit that is based on pricing. The rebuilt units now for sale are attractively priced for all budgets.
"We're one of the few rebuilding companies that makes direct sales to the public and for pricing that is near wholesale to give advantages to all buyers and not just trade industry clients," the source included.
The Powertrain Pros company website now offers all consumers the option of quoting company prices online. A complex database has been programmed and is installed for easy access online. The 4L60E units as well as other four-speed and five-speed units are now quotable instantly when the company database is searched online.
About PowertrainPros.com
The PowertrainPros.com company specializes in rebuilding and certifying transmission units that are originally produced by General Motors or other companies in the auto industry. This company has a dedicated staff of specialists who rebuild all units in-house as an effort to pass on the savings to buyers. The PowertrainPros.com company offers its resourceful website to consumers who are seeking immediate quotations for remanufactured Chevrolet, GMC and other GM-based transmissions online. A national number is offered by this company for customer service purposes or online systems for contact are provided.