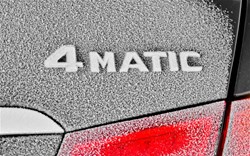 New 4MATIC 4-Wheel Drive Option Can Make Driving Safer and Easier During UK's Difficult Winter
Stevenage, UK (PRWEB UK) 15 November 2013
The all-wheel drive configuration will be available beginning in January 2014, and will be offered for the A 250 4MATIC in both AMG Sport and Engineered by AMG trims. Meanwhile, in the B-Class, it will be compatible with the B 220 4MATIC available in Sport trim.
The option to have the all-wheel drive 4MATIC system will give Mercedes-Benz customers an added choice for stability in adverse driving conditions including ice, snow, sleet, and wind. The advanced system distributes torque between two axles via assistance from the electro hydraulically-controlled multi-disc clutch. This variable torque distribution can send up to 50 percent of the torque to the vehicle's rear wheels. This provides road hugging capabilities to the tyres with the most traction.
Prices for the A250 4MATIC in the AMG Sport trim start at 28,985 GBP. The Engineered by AMG edition starts at 30,905 GBP. The price of the B 220 4MATIC Sport starts at 28,135 GBP. Contact your L&L Automotive Mercedes-Benz retailer in Bishops Stortford, Stevenage, and Hertford for specific pricing and available incentives.
At the same time, Mercedes-Benz is announcing the availability of 4-MATIC all-wheel drive systems in these A-Class and B-Class models it is also announcing other A and B Class changes. The brand has launched A 180 CDI ECO SE and B 180 CDI ECO SE economical versions here in the UK which have CO2 emissions of only 92 g/km for the A model and 98 g/km for the B model. These will replace the current A 180 CDI SE and B 180 CDI SE. Additional changes also include an aerodynamic grille element, and a lower suspension and underbody panelling, manual gearboxes with longer ratios in the high gears, a fuel tank that is lighter and an energy recuperation system that is upgraded.
Mercedes-Benz is in the midst of a very exciting and innovative period in its long history. New models and new innovations are being introduced at a rapid pace and the brand is successfully appealing to a new generation. In the meantime, its standards of excellence continue to rise while maintaining its status for excellence and luxury.
The addition of 4MATIC all-wheel drive systems to A-Class and B-Class models is more proof of Mercedes commitment to continued innovation. With wintry weather ahead, timing couldn't be better.
END
Author: David Newman from Mercedes-Benz Hertfordshire
About Mercedes-Benz Hertfordshire - L & L Automotive
L&L Automotive is the driving force behind a dynamic retail network aimed at enhancing sales and after sales services for the region's existing and prospective Mercedes-Benz, AMG and smart customers.
Encompassing retail outlets in Bishop's Stortford, Hertford and Stevenage, the group is operated by L&L Automotive – a company boasting a lengthy and successful history.
L&L's Mercedes-Benz businesses moved into Hertfordshire in July 2002, when it was selected as one of Daimler UK's key business partners in establishing a revitalised national retail structure.
L&L Automotive. is a company registered in England and Wales with company number 4415393
VAT No. 794 6047 92
Mercedes-Benz of Stevenage : 01438 737800
Mercedes-Benz of Bishops Stortford : 01279 719333
Mercedes-Benz of Hertford : 01992 514444