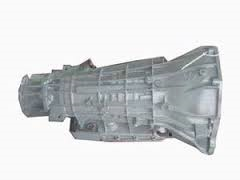 We're proud to be one of few sources online selling custom built transmissions for Ford vehicles that are certified by our service staff.
Detroit, Michigan (PRWEB) November 11, 2013
Ford Motor Company continues to promote its F-Series nationwide and continuously upgrades the technologies inside this vehicle brand. The heavy-duty transmissions that are included with these vehicles can now be purchased as rebuilt from the Powertrain Pros company. This company has included the 4R100 Ford transmission with its inventory for sale at http://powertrainpros.com/ford-4r100-transmission.
These reconditioned units are also named the AODE in some applications in Ford vehicles. The heavy-duty nature of these gearboxes is one reason why these units were used in the Powerstroke editions of Ford F-Series trucks. The recycled units that are now for sale are giving options to the public who are searching for four-speed heavy-duty Ford transmission inventory for sale online.
"We're proud to be one of few sources online selling custom built transmissions for Ford vehicles that are certified by our service staff," said a source for the PowertrainPros.com company.
The technologies to rebuild transmissions have changed throughout the past two decades in the U.S. The move away from manual transmission parts towards electronically controlled units has caused more of a demand for trained technicians capable of working with alternative gearbox designs.
The Powertrain Pros company features trained experts who manage each Ford rebuild to certify the quality of the output. This same level of professionalism is placed into the Chevrolet and Dodge brands featured in the company warehouse inventory.
"The 4R100, AODE and other units that are four-speed builds in our inventory go through our internal procedures of quality control before these are shipped inside the U.S. to customers," the source included.
The Powertrain Pros company relaunched its website in 2013 to include an expanded inventory online. These modifications have been well received by the buying public. A toll-free ordering number is now in place to help buyers order faster or receive additional details about transmissions for sale. This number at 1-888-292-8807 can be used daily to contact company staff.
About PowertrainPros.com
The PowertrainPros.com company supplies replacement transmissions that are reproduced from used units to North American buyers. This company has a trained staff of professionals in the rebuilding industry who personally build each unit from the ground up. The PowertrainPros.com company recently introduced its updated website that includes an online quotation system and more detail pages that can be used as research tools by the public. The tools this company gives instant access to online are setup to remove any type of research normally required to find a replacement transmission on the Internet.