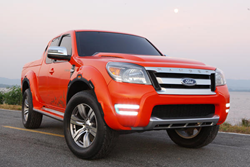 Our revised pricing for used transmissions in the Ford lineup this year should make U.S. purchasers happy when ordering from our website
Miami, FL (PRWEB) May 22, 2015
The large diesel pickup trucks produced by Ford Motor Company from 1999 to 2003 made use of a special transmission known as the 4R100. Consumers or vehicle mechanics can now buy used 4R100 transmissions online through the Preowned Transmissions company website at http://preownedtransmissions.com/used-4r100-transmission. A new inventory update is making these units available to Internet shoppers.
The second hand Ford 4-speed automatic assemblies that are now offered for sale are meant for installation into diesel powered pickup trucks. The inclusion of these versions in the PreownedTransmissions.com company warehouse is expected to meet the demand by auto mechanics and regular truck owners who search for used units on the web.
"Our revised pricing for used transmissions in the Ford lineup this year should make U.S. purchasers happy when ordering from our website," said one Preowned Transmissions company specialist.
One of the ways that Ford has improved technology with its gearboxes is by adding electronic controls. Since the early 1990s, most of the automatic versions installed in vehicles now showcase computer and electronic control systems. The PreownedTransmissions.com company offers support for these models with its discounted inventory.
"The 4R100 and comparable stick-shift assemblies that are available to buy on our website are fully compatible with modern control technologies," said the specialist.
Sales are now being processed on the Preowned Transmissions company website for all Ford or similar automaker inventories. Offline ordering can still take place using the service number at 1-866-320-1182. Customer service agents are available daily to answer consumer questions about inventory.
About PreownedTransmissions.com
The PreownedTransmissions.com company sells vehicle gearboxes that are distributed in the U.S. on behalf of company suppliers. The company specializes in providing foreign and American built assemblies that have been evaluated for mileage. The PreownedTransmissions.com company supplies warranty details, price information and inventory data through its homepage to aid purchasers before the checkout process is complete.