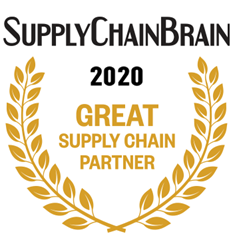 We want to thank our clients for recognizing our team's hard work to help shape their future
WAYNE, N.J. (PRWEB) October 01, 2020
4SIGHT Supply Chain Group, a leading supply chain consulting, engineering and IT services provider, has been recognized by SupplyChainBrain as a 2020 Great Supply Chain Partner. 4SIGHT received this honor based on nominations from clients leveraging 4SIGHT for critical supply chain transformation projects.
"For 18 years running, SupplyChainBrain has published our much-anticipated list of 100 Great Supply Chain Partners — a select group of companies whose customers recognize them for providing outstanding solutions and services," said Brad Berger, publisher for SupplyChainBrain. "Our six-month online poll of supply chain professionals requires specific criteria to nominate vendors and service providers whose solutions have made a significant impact on their company's efficiency, customer service and overall supply chain performance. This year's field of nominees was competitive and inspiring – coming from all sectors of supply chain management."
"We're honored to once again be recognized as a Top 100 Supply Chain Partner by SupplyChainBrain, a leader in our space. We want to thank our clients for recognizing our team's hard work to help shape their future," said Frank Camean, president and chief executive officer of 4SIGHT. "Congratulations to all recipients on this industry achievement."
About 4SIGHT Supply Chain Group
4SIGHT specializes in supply chain consulting, engineering and information technology. Our seasoned professionals average more than 19 years of experience helping companies across all industries solve their distribution, fulfillment and transportation challenges. As a testament to the value our clients place on our expertise, experience and integrity, 4SIGHT has received multiple industry awards. For more information, please email us at in4mation@go4sight.com or visit http://www.go4sight.com.
About SupplyChainBrain
SupplyChainBrain, today's most comprehensive supply chain management information resource, is accessed year round through a wide range of ever evolving multi-media formats by hundreds of thousands of the world's most influential supply chain executives. In addition to addressing the fundamental principles of supply-chain management, SupplyChainBrain identifies the latest news, emerging trends, technologies and best practices, forward thinking ideas and cutting-edge solutions - and continues to write and report about these as they evolve and mature.