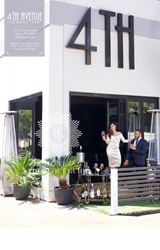 We felt that Drake's appearance was one of the many needed elements to open the doors for other artists and businesses to see that Jackson is ready for a diverse and inclusive future" Ja'Nee Powell, Co-Owner of 4th Avenue Lounge
JACKSON, Miss. (PRWEB) December 24, 2019
On Friday, December 20, 2019 Grammy award winning, multi-platinum selling recording artist Drake, surprised fans with an impromptu performance appropriately titled "Homecoming after Homecoming" at the upscale 4th Avenue Lounge in Jackson, MS (http://www.4thavenuejxn.com). The Canadian born rapper announced that he'd be appearing at the intimate venue earlier in the day on his Instagram Story.
In honor of Jackson native and friend, CJ Gibson, Drake decided to return to Jackson after 10 years to pay homage to a city who hosted one of his first "real" club appearances. In 2011, Gibson brought Drake to Jackson and decided to recreate the magic on Friday night by having Drake return to Jackson to celebrate the turn of the decade the "OVO" way.
Lounge owners Chad & Ja'Nee Powell were tapped to transform their hybrid 4th Avenue Lounge into a concert venue overnight. "We wanted to give the city of Jackson a once in a lifetime opportunity. It was a no-brainer. Although the temperature in Jackson was frigid, it did not stop Jackson's Mayor, Chokwe Antar Lumumba and hundreds of fans from lining up to gain entry into 4th Avenue lounge" said Chad Powell.
CJ's team laid the foundation and in 24 hours Chad and I delivered an up close and personal Drake experience. Having an artist of Drake's statue in Jackson is integral to rebuilding the strength of our city. We felt that Drake's appearance was one of the many needed elements to open the doors for other artists and businesses to see that Jackson is ready for a diverse and inclusive future" said Ja'Nee Powell.
4th Avenue Lounge-Jackson, MS
4th Avenue is a hybrid Cocktail Lounge and event venue conveniently located on the corner of Lamar and Pearl Streets in Downtown Jackson, MS. 4th Avenue offers a mixture of experiences from after 4 networking, to late night VIP Reservations, private Corporate Events, and social celebrations. They are devoted to providing guests with an exceptional menu and 1st class service. Check out and/or connect with the 4th Avenue Lounge team via Instagram/Facebook: @iam4thavenue @chadwayne007 and jjpowell22