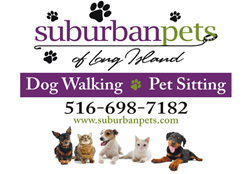 5 Dog Walking Tips from Suburban Pets
Massapequa, NY (PRWEB) December 14, 2013
Suburban Pets love of animals is well documented. They have supported both in actions and donations a plethora of animal rights causes. They love animals, plain and simple, and that love is the driving force for what they do here. However, they also love Long Island, and feel they can help take some of the responsibility in taking care of pets then they are glad to help.
At Suburban Pets, they will walk dogs for clients at times when they can't. This allows the dogs to get the exercise they need, with caring loving professionals, while giving pet owners some of the free time to take control over their hectic lives. But it's more than just walking. Regular exercise is a great way to increase the longevity of a pet.
When taking the family pet for a walk, think about these tips from the experts!
1.  Bring water. Although pet owners may not realize, hyperthermia is a life threatening condition that could affect a dog while exercising. Especially in warmer months, bring a bottle of cold water so that the dog can remain hydrated while exercising.
2. Keep the same route. Although its nice to change the scenery a bit, keeping the same walking route may be helpful so that just in case the dog ever gets loose on the walk, they are familiar with finding his way back home.
3. Don't let a stranger pet the dog. When a dog is on his leash, they might feel threatened that he can't protect himself, making it more likely for him to lash out at a stranger.
4. Less sniffing, more walking! When possible and safe, walk in the street so that the dog isn't overcome with the desire to sniff every pole and fire hydrant. This makes for more movement and more exercise!
5. Make sure the dogs collar or harness is tight enough so that he or she can't slip out. There should only have enough room to fit two fingers underneath the dogs collar for a proper fit while leash walking. Also make sure that identification tags are always worn!
For more tips please visit Suburban Pets online http://www.suburbanpets.com.