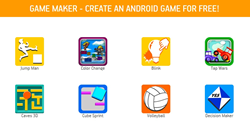 I believe by creating different styles of apps with my content, I have reached a far wider audience than I would have with just one app style
(PRWEB) April 30, 2015
AppsGeyser is an online app making platform, established to simplify the app making process. Initially launching in 2011, with a small range of 6 content rich templates, AppsGeyser quickly built a huge following. The demand from app makers for more varied template styles has led to the implementation of over 50 template styles. A template is pre-programmed; it provides the app maker with the ability to transform their personal content into an app without having to input any technical code.
AppsGeyser's free Android app tool program has evolved with the needs of the Android app community. The different template designs enable app makers to create apps relevant to their working needs, encompassing different content styles and focusing on audience requirements. The templates released include: URL based templates, media styled templates, gaming templates and free design off line templates. For further information on the range of templates, please click through to the AppsGeyser blog for more details.
"I was not sure how to convey my content to my audience," Donna Alley told us, "I am grateful that AppsGeyser was able to provide me with these easy to use templates which allowed me to create numerous app styles to distribute. I believe by creating different styles of apps with my content, I have reached a far wider audience than I would have with just one app style."
"It is not always easy to know what will suit your audience," explains Vasily Salomatov. "Creating a range of apps will enhance the success of an app maker by reaching out to a large audience circle."
About AppsGeyser
AppsGeyser, launched in February 2011, is now the biggest free Android app builder on the market. AppsGeyser's popularity has risen by enabling users to create apps with ease for Android devices from any web content in under five minutes. AppsGeyser has seen more than 1,699,000 apps created on its platform. There have been more than 1.079 billion downloads of its apps.