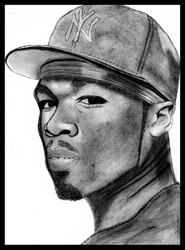 Boston, MA (PRWEB) December 04, 2014
50 Cent recently went through the unpleasant experience of not being able to withdraw a single dollar from his frozen personal bank account at an ATM as reported by newspaper The Independent from the United Kingdom (4). Another media outlet reporting on this matter is news station WTVQ out of Lexington, Kentucky, which explained that the account in question was frozen due to the aforementioned legal battle against Sleek Audio (5). The allegations in this case, which at some point involved arbitration, are based on a trade secret fraud complaint initiated by Sleek Audio; nonetheless, the case has turned into a complex legal battle whereupon 50 Cent later became a plaintiff and lost on a claim of trade secret misappropriation (3).
Curtis Jackson III, better known in music circles as 50 Cent, is a very successful rap impresario and entrepreneur whose 2003 best-selling album "Get Rich or Die Tryin'" and his numerous business deals placed him in Forbes' list of the wealthiest hip-hop artists in 2014 (1). 50 Cent's net worth of $140 million puts him along the lines of fellow hip-hop artists such as Sean "Diddy" Combs, Jay Z, Birdman Williams, and Dr. Dre. Similar to Dr. Dre, 50 Cent became a major investor in a line of personal listening devices for audiophiles; whereas Dr. Dre is known for the Beats Audio line of high-end headphones, 50 Cent was at one point associated with Sleek Audio (2). Unlike Dr. Dre, however, 50 Cent's audiophile headphones venture has not been very amicable as can be gleaned from Curtis J. Jackson, III v. Sleek Audio, LLC et al in the United States District Court for the Southern District of Florida, Case No. 9:13-CIV-80725-MARRA (3).
According to The Independent, 50 Cent allegedly entered into a business relationship with Sleek Audio to create set of headphones that could deliver an audio experience worthy of hip-hop sound (4), similar to what Dr. Dre accomplished with Beats Audio. Alas, Sleek Audio claimed that 50 Cent stole their design and then marketed as his own brand, Studio Mastered Sound (SMS) Audio (6). A court-appointed arbitrator recommended about than $17 million in damages paid to Sleek Audio, and 50 Cent promptly moved to appeal (5). In the end, Sleek Audio aggressively tried to collect on this court-approved award for damages, and they appear to have succeeded insofar as freezing a personal account belonging to 50 Cent. Meanwhile, 50 Cent's attorney was quoted by The Independent as being confident that Sleek Audio has only been able to lock his client out of a personal account, and that the rap mogul's sizable business accounts are safely protected (4).
With regard to this case, Rocco Beatrice of UltraTrust.com explains: "We could be looking at a situation whereupon Mr. Jackson has adequately protected his assets with a product such as our own UltraTrust®, which is a carefully constructed and professionally managed irrevocable trust." Mr. Beatrice is the Managing Director of Estate Street Partners, LLC, an asset protection and estate planning firm that owns and operates the UltraTrust.com website.
Mr. Beatrice continues: "We know about 50 Cent's personal bank account because it was likely not deposited into a legal instrument such as our UltraTrust®. Any bank accounts or financial assets held by an irrevocable trust cannot be considered to be owned by an individual. In other words, we would have never known that the frozen account belonged to 50 Cent in the first place. This is the kind of asset protection that legal instruments such as the UltraTrust® provide. The key is to choose the right structure, jurisdiction and management for the purpose of shielding assets by essentially eliminating the burden of ownership."
Expanding on the issue of asset ownership, Mr. Beatrice expands: "We have clients who come to us with certain ideas about asset protection. Many of them are high net worth individuals such as 50 Cent, and they inquire about how effective it would be to gift their assets, use limited liability companies or even revocable trusts. The level of asset protection that those structures provide is tenuous at best. What the UltraTrust® so efficiently accomplishes is a complete transfer of assets from the grantor, the former owner, to the trust, a legal business entity. In this fashion, it is possible that 50 Cent transferred his business assets, which are probably a major chunk of his reported $140 million net worth, to a structure such as our UltraTrust®. We can also assume that such transfer took place in a very timely manner, which is to say that 50 Cent may have thought about the danger of lawsuits soon after he encountered early success. Perhaps his personal account was the only asset skipped from protection, and thus Sleek Audio saw it as an easy target. It is important to note that 50 Cent could not have transferred that personal account into an UltraTrust® or similar instrument once the lawsuit was filed. Timing is an essential aspect of asset protection and financial planning."
About Estate Street Partners (UltraTrust.com):
For 30 years, Estate Street Partners has been helping clients protect assets from divorce and frivolous lawsuits while eliminating estate taxes and probate as well as ensuring superior Medicaid asset protection for both parents and children with their Premium UltraTrust® Irrevocable Trust. Call (888) 938-5872 to learn more.
#
1. Forbes, 4/18/2014, (forbes.com/sites/zackomalleygreenburg/2014/04/18/50-cents-net-worth-140-million-in-2014/)
2. Engadget, 1/7/2014, (engadget.com/2011/01/07/engadget-interviews-50-cent-inside-the-mind-of-a-hip-hop-mogul/)
3. Plainsite, 12/3/2014 (plainsite.org/dockets/1z80c2auo/florida-southern-district-court/jackson-v-sleek-audio-llc-et-al/)
4. The Independent UK 12/3/2014 (independent.co.uk/news/people/50-cent-barred-from-his-own-bank-account-after-failing-to-pay-multimillion-judgement-9900906.html)
5. WTVQ Lexington 12/2/2014 (wtvq.com/story/d/story/report-50-cents-personal-bank-accounts-frozen/27057/nmRfGBiCI0q-DzuGygnuLQ)
6. SMS Audio 12/3/2014 (http://smsaudio.com/)