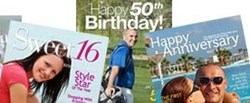 This was a great idea for our golf team. The kids LOVED it and the families will always treasure these covers. Thank you also for fabulous service. Can't say more to express how happy we were with the finished products.
Wilton, CT (PRWEB) November 27, 2013
YourCover has been providing personalized magazine covers for celebrating special people and special occasions since 2000. Over the years the price point has dropped from over $300 per magazine cover to now less than $10.
The first magazine cover within a single order is priced at $12.95 for a photo file download and $19.95 for a photo print produced by YourCover. Now, each additional magazine cover download (after the first one) within a single order is priced at half off ($6.48) a drop of 98% from the original price point back in 2000. The 50% discount on additional photo prints has been the YourCover policy for several years. YourCover has decided to expand the discount to the photo file download product as well.
The benefit for consumers is significant. For example, in making magazine covers for every member of a sport team, the overall cost has now been decreased significantly. On a typical team of 15 athletes, the cost of a unique gift for everyone on the team has gone from a total of $194.25 to $103.67.
A fake magazine cover is a fast and easy way to create a unique gift for multiple team members, family members or co-workers. After choosing one of 80+ magazine cover templates, each cover is personalized with the individual's photo and customized headlines. The photo file download is instantly delivered on the order confirmation page as well as emailed to the customer. With the new pricing model, this unique last minute gift is also very affordable.
For customers with more time, YourCover can print and frame the magazine covers. The same low cost pricing model is in effect with each additional magazine cover after the first one priced at 50% off. Multiple copies of one design or multiple cover designs for different people are all counted towards the total.
At 50% off all additional magazine covers within a single order, customers can create a theme around their holiday gift giving while giving a completely unique gift to each person on their list all while saving money.