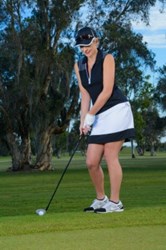 Black Magic Wedge Reveals the Reasons Why Its 52 Degree Gap Wedge Gives Players a Competitive Edge
Nationwide (PRWEB) October 23, 2013
Today, one will find a variation between the degrees in wedges from one manufacturer to another. The gap wedge can run between 50 to 54 degrees in a traditional style wedge or in a 52 degree Black Magic best hybrid golf wedge that offers many advantages to golfers.
If one is in the market for a gap wedge things to consider would be to know what degree sand wedge and pitching wedge one currently utilizes. If the sand wedge is a 54 degree, then a 52 degree gap wedge would not be the best choice because ideally one wants approximately 4 degrees between each wedge which should give the player about 10 to 15 yards between clubs.
A thing to consider when searching for a 52 degree gap wedge is the latest technology in hybrid wedges. Hybrid golf clubs in general have a low center of gravity that translates into faster and higher lift on shots. Also, players can sweep the ball off the turf rather than trying to pinch the ball perfectly that makes standard wedges work best.
The all-new Black Magic gap wedge offers a real competitive edge to players for many reasons. First, they have a hybrid body that gives that fast lift that player's need on short shots along with an iron face that gives immense spin and control. The leading edge wraps perfectly around the heel of the club. This allows players to use this wedge for more than just full shots. Laying the face open for those short flop shots just feels natural because the Black Magic Wedge entirely eliminates the chance of shank shots. Bunker shots become routine because players can enter the sand as much as 8 inches behind the ball that actually makes the complete and necessary follow through feel natural.
Black Magic has made significant improvements to the traditional design of the club by using innovative features, which allow players to use this wedge in unusual situations. The club can be custom fit for even better performance and is one of the most affordable hybrid irons on the market today.
ABOUT:
Blade Runner Golf, Inc., is a company devoted to the notion that a golfer's short game can make all the difference in his or her final score—but you can take your short game to the next level only if you have the right equipment. Black Magic's hybrid wedges Conform to USGA rules, but also helps golf enthusiasts find new precision and power as they make their way onto the putting green. Black Magic Wedge can be accessed on the web at: http://www.blackmagicwedge.com.
Contact:
Black Magic Wedge
2519 McMullen Booth Rd
Suite 510-129
Clearwater, FL 33761
Phone 727-726-5737
Toll Free 877-799-6099