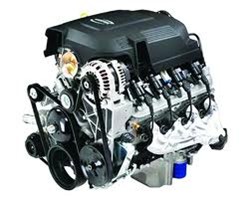 The Vortec LM7 base is one of the popular builds that we now have in our inventory.
Portland, Oregon (PRWEB) August 12, 2013
General Motors produces the 5.3 engine series that is configured in V8 size for its truck series sold globally. The Chevrolet and GMC series vehicles have used this engine type successfully. The http://usedengines.co company is now selling 5.3 liter Chevy engine inventory to buyers online. These authentic engines are low mileage units picked for quality before shipment.
"The Vortec LM7 base is one of the popular builds that we now have in our inventory," a source from the Used Engines Co. said.
The GMC series of mid-size and full-size trucks distributed in the U.S. and Canada are one example of the installations of the 5.3 engine in the past 15 years.
Trucks like the Sierra have been created as alternate editions of Chevrolet models that are marketed to a different group of pickup truck buyers. The horsepower and torque of the Vortec platform has remained consistent with each build that is produced by GM.
"The 5.3, 5.7 and other types can now be searched inside our GM inventory of reliable used motors online," the source added.
Engine buyers who are currently purchasing preowned motors from other sources online could stand to benefit from the reduced price structure created for the Vortec series builds now in stock.
One feature that has been popular on the UsedEngines.co website this year is the quote system. This system has taken the place of offline price lookups and now places valuable information into the hands of consumers at a faster pace.
The GMC engines that are now added can be researched using this system for price lookups.
About UsedEngines.co
The UsedEngines.co company sells its replacement motors directly to consumers in the United States at prices that are promoted lower than dealerships. This company completes daily updates for its website online providing consumers with better resources to purchase previously owned engines in V6 and V8 builds. The UsedEngines.co current policies in place allow this company to ship engines without shipping costs and to provide better warranty protection policies. The searchable inventory found online includes hundreds of different engines that are low mileage units in genuine automaker builds.