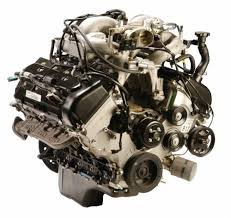 The 5.4L motor is one of the best-selling builds in the Ford Motor Company family, and we're now helping auto parts purchasers buy powerful V8 engine blocks in used condition
Chicago, IL (PRWEB) March 30, 2015
Ford V8 motors are now found inside of sport utility vehicles, performance cars and heavy-duty pickup trucks in the global auto industry. The demand for replacement V8 motors has helped the Powertrain Guys company to improve its 5.4-liter Ford engines inventory for sale this year. New discounts for these blocks are now found at http://powertrainguys.com/used-5-4-liter-ford-engine-for-sale.
The 5.4 is part of the Triton family of vehicle motors that were produced by Ford between 1997 and 2009. The used condition inventory that is now supplied at a discount price structure is due to improved supply received from PowertrainGuys.com distributors this year. Consumers who cannot find a local source in their area to buy the Triton series can now purchase these online.
"The 5.4L motor is one of the best-selling builds in the Ford Motor Company family, and we're now helping auto parts purchasers buy powerful V8 engine blocks in used condition," said a PowertrainGuys.com source.
While replacement vehicle motors are a large part of the Powertrain Guys inventory offered for sale, the company has also expanded to provide replacement transmissions at unique sale prices. The 4-speed and 5-speed gearboxes that are paired with the Triton V8 motors can also be purchased in the used Ford inventory now shipping nationally.
"We've improved the types of components that are available for sale through our website as well as our distributor connections in 2015," the source included.
Consumers who take an interest in the discounted inventory at the Powertrain Guys website will be able to find the complete stock of Ford products for sale. All preowned inventory including transmissions can be located when using the automated warehouse search system built into the homepage.
About PowertrainGuys.com
The PowertrainGuys.com company provides used motor vehicle engines and transmissions to consumers who shop its parts portal on the Internet. The company features inventory from leading distribution centers across the United States. The PowertrainGuys.com company upgrades the searchable inventory daily through an automatic system to provide accuracy to consumers.