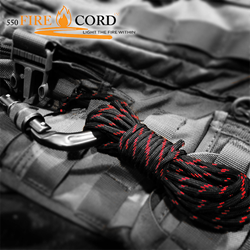 This product will revolutionize the Outdoor Gear Industry. It combines the utility of paracord while fulfulling the necessity of always having an emergency fire starter.
Frederick, Maryland (PRWEB) April 03, 2014
How does 550 FireCord differ from other emergency fire starting gear? 550 FireCord ignites with ease, burns very hot, has long burn time and is waterproof. This product allows the user to always be prepared to make fire in any emergency situation and will revolutionize the Outdoor Gear Industry as well as paracord use forever.
Live Fire Gear LLC has invented another innovative fire starting product applying their current technology used for their already successfully produced products, Live Fire Original and Live Fire Sport, to paracord. 550 parachute cord or "paracord" has been the standard go-to for most cordage needs as it has a multitude of applications. from zipper pulls and handles to keychains, bracelets and lanyards to the most basic use - lashing.
Now, imagine if you could also use paracord as fire tinder. Enter 550 Firecord… the fire preparedness solution that will ensure you are always prepared!
Simply deploy 550 FireCord to meet all of your parachute cord needs. When you need the fire tinder remove the inner strands (impregnated With Live Fire Gear's proprietary formula), light the fire tinder and build the fire. After the inner strands are used, the outer shell can still be utilized as before - for lanyards, keychains, zipper pulls or emergency lashing.
The timeline for final release of 550 FireCord is Q3 2014 as Live Fire Gear LLC wants to ensure the product production is perfected prior to the final development phases.
Due to the overwhelming response and excitement, Live Fire Gear LLC will continue obtaining pledges until the project closes on April 24, 2014. To allow for additional backers and pledges, Live Fire Gear LLC is releasing stretch goals with the addition of a wide variety of color options. Join Live Fire Gear LLC in their success - visit their Kickstarter Project: https://www.kickstarter.com/projects/livefiregear/550-firecord-the-ultimate-emergency-fire-starter.
About Live Fire Gear LLC
Live Fire Gear LLC was formed out of a mutual respect, work ethic and appreciation for innovative gear between Adam Francis (Owner of Equip 2 Endure LLC – a Multi-media Outdoor Gear Review and Consulting Company) and Roger Fandrich (Inventor of Multiple Fire Starting Solutions). The relationship between Roger and Adam began in March of 2011 while Adam provided consulting services on one of Roger's very first Survival Gear Products. Adam was quite impressed with the product and gave it a fair and positive test and evaluation. Both Roger and Adam remained in contact and in 2012, Adam received a new product from Roger to review named Live Fire. Following Adam's review of the product, not only did he become a fan of it, he found himself becoming an advocate of the technology as well. Adam and Roger realized that they made a great team as the synergy of their efforts started to produce great results.
Knowing the two survivalists could revolutionize the survival industry, they quickly found themselves discussing and eventually forming a partnership in Live Fire Gear LLC, established in 2013. 550 FireCord represents the rirst of many new products currently in different phases of development. With this technology and their joint experience in the Outdoor Gear Development Community, Adam and Roger look forward to many more successful endeavors.