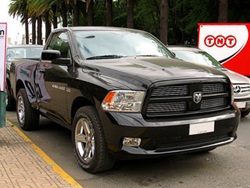 Paying less for a 5.9L Magnum engine for sale is now a reality thanks to our close distributor relationships that make lower pricing possible
Dallas, TX (PRWEB) May 31, 2015
The now classic Dodge Ram truck models are being supported with the used condition auto parts inventory at the UsedEngines.co company this year. A brand new inventory of 5.9L Magnum V8 engines are now available with a freshly discounted price structure for Internet orders placed at http://www.usedengines.co/dodge/dodge-magnum-engine.
Restoration companies or owners of trucks who are now estimating the cost of an upgrade from the Dodge 360 engine series will be able to review all price discounts at the Used Engines Company website. The blocks that have been revised in price are the 230 horsepower builds that were produced during the Magnum era between 1993 and 2003 in the United States.
"Paying less for a 5.9L Magnum engine for sale is now a reality thanks to our close distributor relationships that make lower pricing possible," said a sales rep at the UsedEngines.co website.
Aside from the incentive for Magnum 5.9L V8 engines, the UsedEngines.co company has also made price adjustments to its 4.7L and 5.2L Dodge truck motor blocks. Each of the reduced priced builds continues to include the schedule of warranty protection and freight offers that have been in place since the beginning of this year.
"The Dodge truck engine parts that are offered as used through our company are now matched with full parts warranties when a sale is processed," said the sales rep.
The UsedEngines.co website has been redesigned this month to provide a simpler ordering center for consumers. The company has changed its price exploration tool to remove the need to input information other than a production year or model of a vehicle to find Dodge or other brands of second hand motors.
About UsedEngines.co
The UsedEngines.co company is one of the leading vehicle parts distributors for used components in the United States. The company started by selling vehicle motors and transmissions nearly a decade ago. The UsedEngines.co company is now positioned to sell most brands of North American and foreign vehicle parts that come with warranty protection for buyers.