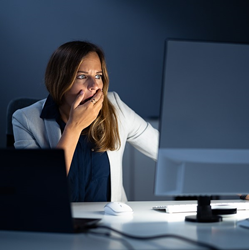 The risks and costs associated with ransomware have climbed higher than ever. But law firms can take simple, effective measures to prevent cyberattacks.
HOBOKEN, N.J. (PRWEB) October 13, 2021
A leading NYC area legal cybersecurity expert and cloud services provider presents five steps to prevent cyberattacks in a new article on the eMazzanti Technologies website. The informative article first cites increasing cyber threats and the ethical obligation law firms have to proactively address technological challenges in the context of client matters.
The author then discusses cybersecurity measures, including security automation, layered security, and regular security assessments. She then urges readers to apply email filtering and geo blocking and not to pay the ransom if suffering a ransomware attack.
"The risks and costs associated with ransomware have climbed higher than ever," stated Jennifer Mazzanti, CEO, eMazzanti Technologies. "But law firms can take simple, effective measures to prevent cyberattacks."
Below are a few excerpts from the article, "5 Steps to Prevent Cyberattacks and Safeguard Legal Client Information."
1. Automate Where Possible
"Wherever possible, take advantage of cybersecurity automation. This includes automating mundane tasks such as patching updates. It should also include features such as file integrity monitoring and tools for threat hunting."
2. Implement Layers of Security
"No single security solution will provide all the necessary protection. Implement firewalls and multi-factor authentication. Add regular data backups and ensure that end users receive targeted security training. Carefully regulate data access, particularly in a remote work environment. And be sure to implement domain name system (DNS) protection."
3. Do Not Pay the Ransom
"Remember that today's hackers run a business. Victims that pay the ransom become good customers, and hackers like a good customer. That means that if you pay the ransom, your chances of getting hit a second time immediately go up."
"Cyber insurance companies know this. They will suggest paying the ransom, because paying the ransom represents a relatively easy way out. But as soon as they do, you will find your policy canceled. No one else will cover you, and your firm will find itself without a safety net. Stand firm, and do not pay the ransom."
More steps to prevent cyberattacks >>
Consult Legal IT Experts to Prevent Cyberattacks
The legal cybersecurity experts at eMazzanti Technologies bring a powerful skill set to the table for clients. With deep experience in cybersecurity best practices, they have secured thousands of businesses and law firms.
Business leaders can schedule an initial risk assessment and then work with eMazzanti's consultants to customize a cybersecurity solution tailored to their environment. The eCare Secure Route security solution delivers the automation needed, with comprehensive threat detection, predictive intelligence, and proven reliability.
Have you read?
Supply Chain Disruptions Cause Delays for Many Businesses, But Not All
Protecting Critical Data Starts with Microsoft 365 Data Resiliency and Recovery
About eMazzanti Technologies
eMazzanti's team of trained, certified IT experts rapidly deliver increased revenue growth, data security and productivity for clients ranging from law firms to high-end global retailers, providing advanced cybersecurity, retail and payment technology, cloud and mobile solutions, multi-site implementations, 24×7 outsourced network management, remote monitoring, and support.
eMazzanti has made the Inc. 5000 list 9X, including eight consecutive years, is a 4X Microsoft Partner of the Year, the #1 ranked NYC area MSP and NJ Business of the Year! Contact: 1-866-362-9926, info@emazzanti.net or http://www.emazzanti.net Twitter: @emazzanti Facebook: Facebook.com/emazzantitechnologies.