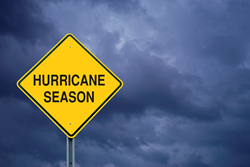 Homeowners are encouraged to visit http://HurricanePreparednessTips.com
Miami, Florida (PRWEB) June 10, 2015
It's here: the 2015 hurricane season. Thanks to 24-hour weather coverage, the exact minute a storm makes landfall can be calculated and reported – so lack of preparedness is not an option. But what exactly should be done, and when, to prepare family and home for a storm? From CGI Windows & Doors, the Miami-based, impact-resistant window and door experts, here are five hurricane season preparedness tips:
1) Know the lingo. Living in a hurricane-prone area, an alphabet soup of weather terminology gets tossed around: various kinds of watches and warnings, eye, wall, surge, etc. Important subtle differences exist between many of these; educate and clarify.
2) Plan, plan, and plan. An existing plan previously discussed with the family makes stressful times flow more smoothly. Things to think about: Contact lists, disaster resources, designated safe spots within the home, community safe spots, personal protection, a set evacuation plan, and special considerations (elderly family members and pets, for example). Details are easier to manage without a hurricane on the map – plan ahead, and communicate the plan to the family.
3) Home safety assessment. Three key areas to consider: flood risks (know your elevation), home risks (evaluate security of garage door, rooftop, windows, and doors – all wind entry points for the building envelope), and outdoor/environmental risks (trees/shrubbery, porches/overhangs, loose outdoor items).
4) Weathering the storm. If evacuation isn't an option, don't make these mistakes:
-Underestimating the storm. Take it seriously, no matter the category.
-Overlooking flood concerns. The storm surge is often the deadliest part of a hurricane.
-Not protecting the home. If the home isn't hurricane-strong, it's vulnerable to the full force of the storm. Plan ahead.
-Not following safety regulations after the storm. What do carbon monoxide, alternative fuels used incorrectly, gas leaks, or improperly vented generators all have in common? They can all turn into killers. Follow all proper precautions.
5) After the storm. Check for leaks immediately. Wind can drive water throughout your home, so look everywhere. Wet-dry vacuums are a great way to mop up water, if the home has power. If not, sweep water pools into dust pans and dump them into buckets. Take all textiles outside to dry to prevent mold. For heavy flooding, call in professionals to evaluate the safety of the home and offer next steps.
Homeowners are encouraged to visit HurricanePreparednessTips.com, a CGI-sponsored micro site chock full of free online safety advice, checklists, a readiness quiz - everything needed to prepare family and homes for potential weather events.
For more information, please visit http://www.cgiwindows.com. On social media, CGI Windows & Doors can be found on Facebook, twitter, LinkedIn, and Google+.
ABOUT CGI:
CGI was established in 1992 and has consistently built a reputation based on designing and manufacturing quality impact-resistant products that meet or exceed the stringent Miami-Dade County impact standards. The Company has over 300 employees at its manufacturing plant in Miami, Florida. Today the Company continues to lead as an innovator in product craftsmanship, strength and style, and its brands are highly recognized and respected by the architectural community. CGI product lines include the Estate Collection, Sentinel by CGI, Estate Entrances, Commercial Series, and Targa by CGI. CGI Windows and Doors is a wholly owned subsidiary of PGT, Inc. (NASDAQ: PGTI). For additional information, visit cgiwindows.com.
# # #