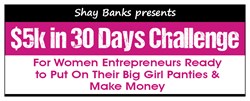 It's great that 126 million women are taking control of their financial futures. But there are a huge number of those women whose businesses are leading a quiet sense of desperation
Dallas, TX (PRWEB) October 17, 2013
Recent statistics show an increase in women entrepreneurs, however, there are many of them that are silently struggling to earn $60,000 per year.
"It's great that 126 million women are taking control of their financial futures," explains Dallas Marketing Consultant Shay Banks. "But there are a huge number of those women whose businesses are leading a quiet sense of desperation. Many want to quit their jobs so they can work their side business full-time. Others that took the plunge and quit their jobs didn't realize it would be so hard to make money. They don't want to go back to working for someone else, but they know something has to change in their business or else they may have to."
More than 126 million women around the globe are either running or starting their own businesses according to Global Entrepreneurship Monitor (GEM) 2012 Women's Report. The report addressed three areas of improvements needed for women entrepreneurs.
"Based on that report, unless women got additional training, began to leverage their skills, and build their confidence, it would be very hard for them to grow their business to a higher level," says Banks, who is hosting a 30 Day challenge for women entrepreneurs who are earning less than $60,000 annually. See http://www.shaybanks.com/5kin30days.
Banks says that leverage is the one skill many women entrepreneurs struggle with. Not having this skill forces them to work one-on-one and rely heavily on word of mouth in order to get sales. This is especially true for entrepreneurs in a local market. Further, it means that their marketing efforts only come from their active face-to-face interactions, she adds.
"Many have turned to social media as a way to leverage some of their marketing. But a huge number of them are utilizing it wrong and as a result they're not monetizing it. So rather than social media being an ally it's becoming a time waster that frustrates many, " explains Banks.
Social media marketing really became a necessity for businesses around 2009. With the popularity of such networks as Twitter and Facebook, many businesses saw an increase in traffic to their website by simply using these platforms.
"Social media is a definite resource, but it can't be the only way to leverage their marketing," says Banks, who works with entrepreneurs every day.
"That's why I'm hosting a 30 day challenge for women. It's a way for those women entrepreneurs who are struggling to grow to start creating huge progress towards their financial goals."
$5k in 30 Days Challenge is specifically for women who are not earning $60,000 per year and are unsure how to boost their sales. The challenge will cover key areas such as:

Understanding the buying habits of your target market and monetizing it on-demand
How to tweak your sales presentations so that potential customers become actual customers
How to create a marketing platform that creates credibility and puts you in front of your target market all day every day
Social media strategies that will result in turning fans into customers
All participants will be eligible to receive monetary prizes as well as complimentary consulting from Banks. At the conclusion of the challenge, all participants will have lifetime access to all program materials.
The challenge begins on October 22 and will run until November 21.
For more details please visit http://www.shaybanks.com/5kin30days.