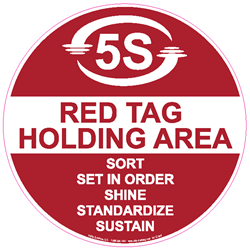 Wake Forest, NC (PRWEB) March 26, 2014
Having a 5S program in place is vital for any work environment. Companies that focus on 5S/Lean initiatives notice fewer number of accidents, reduced costs of inventory, reduced production lead times, and increase in teamwork efficiency. With the "5S Holding Area" tape and "5S Red Tag Holding Area" sign, Stop-Painting.com can help any existing 5S program and enhance what companies already have in place.
In the "Sort" stage of a 5S program, there is a need for organization of workflow and materials used. Without organization of these two elements, work environments are prone to accidents, damaged materials, and increased work cycle time. Once a program is in place, companies must be able to sustain proper techniques and seek out ways to continually improve upon them. Workspace can change in any given environment, and adapting to dimension changes and reinforcement through visual management is vital for companies to remain successful.
Stop-Painting.com offers a solution to this "Sort" stage with their holding area tape and sign. The tape will provide flexibility, durability, and 5S identification to visually reinforce the work practices in place. Rearranging the dimension of the red tag holding area is possible due to the easy removability of Superior Mark™. This flexibility provides the opportunity for other industrial floor marking needs to be met within the facility. Because Superior Mark™ is made from a PVC type material there will be no more scraping, bead blasting, or worrying about losing production lead times. Superior Mark™ is 32 mils thick and comes with a beveled edge design that will provide confidence in "Sustaining" 5S floor marking needs. 5S/Lean Visual management is key to any 5S program and this is why all five sections of the 5S methodology are embedded on the tape and sign.
Workers will be reminded of 5S/Lean core values anytime they are around the Red Tag Holding Area. This is exactly what the "Standardize" and "Sustain" stage highlight in the 5S program. Visual management is key for reducing work cycle time, increasing workspace, and improving company morale.
Please visit Stop-Painting.com for complete product information.
Stop-Painting.com is a part of InSite Solutions, the manufacturer of Superior Mark tape. InSite specializes in floor marking solutions that increase safety, organization, and efficiency in the workplace. They offer Superior Mark and a variety of other traffic control solutions for sale on their ecommerce website, http://stop-painting.com.