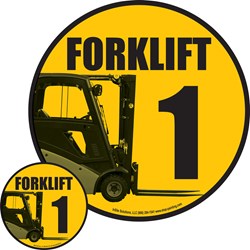 Cliff Lowe commented, 'These floor marking identification kits are a great addition to any 5S system, or a great first step in creating a clear and simple 5S system.'
Wake Forest, NC (PRWEB) January 27, 2014
As the New Year immerges, now is the time to reexamine 5S and Lean systems. In doing so, Stop-Painting.com is excited to contribute to the 5S system by the addition of a floor identification system to their 5S/Lean products.
The addition of a floor identification system in facilities can create an organized and clearly communicated work environment. These floor id systems are adapted to various placement applications for forklifts, pallet jacks, carts, garbage cans, recycling containers, and electrical panels. Each system comes with two signs, one twenty-two inch non-slip vinyl floor sign and a correlating four-and-a-half inch decal to be placed on the system's specified object.
Most 5S systems use color correlation to create the fastest workflow, while other 5S systems use text to communicate information as clear as possible. Therefore, Stop-Painting.com has integrated both of these elements as well as pictograms to create the quickest and clearest communicated system possible. Both of the self-adhesive signs have identical colors and text which keeps communication clear and workflow simple. In addition to the great communication, each system's text can be customized. This possibility allows facilities already using 5S systems to simply integrate these signs in their facilities allowing for no problems with existing systems.
Cliff Lowe commented, "These floor marking identification kits are a great addition to any 5S system, or a great first step in creating a clear and simple 5S system."
Please visit Stop-Painting.com for complete product information or call 1-866-284-1521.
Stop-Painting.com is apart of InSite Solutions, the manufacturer of Superior Mark tape.
InSite specializes in floor marking solutions that increase safety, organization, and efficiency in the workplace. They offer Superior Mark and a variety of other traffic control solutions for sale on their ecommerce website, http://stop-painting.com.