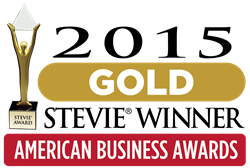 With over 200 competitors in our industry, we are thrilled to be selected for best interface design.
Healdsburg, CA (PRWEB) June 24, 2015
Métier, the business management and optimization platform, announced today that their software was presented with a Gold Stevie Award in the competitive category of Best Interface Design at the 2015 American Business Awards. Métier was selected with the top honor because of their unique limitless canvas® design and workflow engine embedded under custom graphics.
Originally, enterprise work management software was used solely by IT departments to manage projects. Now, the business side of an organization is rapidly adopting enterprise work management to manage and collaborate on ideas, projects, resources, strategy and decisions. Métier saw the need to appeal to a broader set of business users and designed an interface that is user configurable and team centric. Métier incorporated familiar technologies, including map-like navigation, search and collaboration tools to provide organizations with a limitless canvas to collaborate, manage and analyze their work, missions, methodologies and cultures across an organization.
"With over 200 competitors in our industry, we are thrilled to be selected for best interface design," said Douglas Clark, chief executive officer at Métier. "Enterprise work management software is expanding to all areas of the business. Every department, team and user interacts with it differently. We have designed an interface that not only encourages creativity and collaboration, but provides the engine to drive increased performance. I believe that our cross-functional team of marketers, brand specialists, product developers and consultants that contributed to the development and creativity behind the design are what made this so successful."
Over 3,300 nominations from organizations of all sizes and in virtually every industry submitted this year for consideration in the American Business Awards. More than 200 executives worldwide participated in the independent and transparent judging process to select this year's Stevie Award winners.
Métier accepted the award at the banquet in Chicago, IL on June 22. To learn more about Métier's software and watch a video of the unique capabilities, please visit Métier's product demonstrations.
About Métier
Métier provides an award-winning business management and optimization platform that is built upon a foundation of industry-enhancing patents based on computational semantics. Métier's platform combines project portfolio management, big data analytics and business intelligence to ensure organizations are getting their ideas to market quickly and making improvements that affect the bottom line. Founded in 1998, Métier works with customers globally, across public and private sector industries. For more information about how Métier can help your organization workforward, visit http://www.metier.com or call 1.877.965.9501.
workforward® and limitless canvas® are registered trademarks of Métier.
###