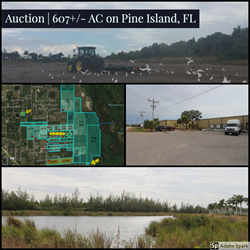 PINE ISLAND, Fla. (PRWEB) February 13, 2019
This Pine Island property is located in one of the best micro climates in Florida for agriculture/farming. The irrigated, laser leveled farmland includes a 43,000+/- sf packing house facility, of which 18,000+/- sf is refrigerated; private airstrip; and 160+/- acres of palm varieties such as Sylvestris, Royal, Coconut, Silver Bismarkia, Roebelenii, Washingtonian, Foxtail and Reclinata. The 607+/- acres will be offered in 39 parcels ranging from 1.5+/- acres to 272+/- acres, with 10 parcels selling regardless of price. The parcels are perfect for homesites, offer water frontage or can remain as farmland with a packing house.
Make plans to visit the property during the preview on Saturday, February 16 from 10:00am-4:00pm. The property will sell at auction on Saturday, February 23 at 11:00am with onsite and online bidding.
View more information on our website: https://www.higgenbotham.com/607±-acres-on-pine-island-floridapacking-house-farmland-waterfrontage-homesites-11-a-m-saturday-february-23/
Established in 1959, Higgenbotham Auctioneers International is a full service auction company specializing in the sale and disposition of real estate on national and international levels.