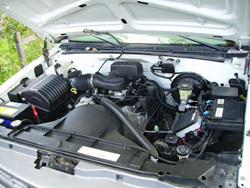 The L96 is one of the blocks that is now available to purchase through our 8-cylinder inventory being supplied this year
Charlottesville, VA (PRWEB) May 28, 2015
Large block motors are one specialty of the General Motors company for use in the trucks, vans and SUVs now produced in the United States. The Preowned Engines company is now bulking up its V8 inventory by adding 6.0L Vortec engines as part of its for sale inventory that is now offered to buyers at http://preownedengines.com/6-0-vortec-engine-for-sale.
By including the SFI enabled Vortec blocks into the company inventory, the POE company is expected to reach owners of Silverado, Yukon or Suburban vehicles who need to locate a replacement motor block. While more than one RPO code is used to identify the 6.0-liter editions, what can now be purchased on the web is the 322 to 360 horsepower editions.
"The L96 is one of the blocks that is now available to purchase through our 8-cylinder inventory being supplied this year," said a Preowned Engines company sales specialist.
Changes at the GM company over the past several years have affected the way that some suppliers acquire surplus inventory. Because the Vortec block has been replaced with the EcoTec3, there can be shortages in some areas of the United States when consumers or mechanics try to find the 6.0L or 5.3L blocks.
"We have earned a strong customer base by acquiring only the motor blocks that are in demand, and not by adding builds that are outdated in the auto industry," the specialist included.
Questions that are not answered for consumers when using the Preowned Engines company website can now be directed to the customer service department at 1-866-320-1065. A trained team is now answering all daily calls for support or information requests.
About PreownedEngines.com
The PreownedEngines.com company is a national supplier of vehicle motors that are in used condition and sold directly to consumers. The company routes shipments through local distributors for faster deliveries. The PreownedEngines.com company receives thousands of visitors monthly to its web inventory portal seeking pricing and warranty data for its inventory.