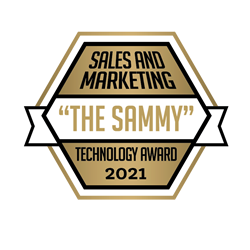 PHILADELHPIA (PRWEB) July 26, 2021
Today, the Business Intelligence Group announced the winners in the 2021 Sales and Marketing Technology Awards program, also known as "The Sammys." The Sammys recognize the technologies and organizations helping to solve the challenges companies have connecting and collaborating with prospects and customers.
"Sales and Marketing technologies are helping to lead us through the new business environment," said Maria Jimenez, Chief Nominations Officer, Business Intelligence Group. "We are so proud to reward and recognize all of our 2021 Sammy winners, as they provide the leadership and vision needed to help companies educate and connect with customers."
The Sammy Award winners are:
Individual of the Year

Tamer Hassan, CEO, HUMAN (formerly White Ops)
Amber Browne, Vice President of Client Development, The Trade Desk
Anthony Welgemoed, Co-founder and CEO, Ziflow
Ajay Gupta, CEO, Stirista
Organization of the Year
Very Small Company (up to 100 employees)
AdCellerant
Agency Mania Solutions
Habu
Jabmo
MediaRadar
SlickText
Small Company (101 - 999 employees)
Chatmeter
HUMAN (formerly White Ops)
Klaviyo
Lilt
Matterkind
Nextech AR Solutions
Piano
Proliant Onboarding & McHire Integration Campaign
Punchh
Wesley Financial Group
Medium-Sized Company (1000 - 9,999 employees)
Acxiom
Instructure
NortonLifeLock Romulus Development Team
Scorpion
Large Company (10,000 or more employees)
BAYADA Home Health Care
Sorenson Communications
Product of the Year
Very Small Company (up to 100 employees)
DecisionLink
Digital Source Tracker from Full Circle Insights
Forma.ai
Launch Potato
VISIT Local from Reveal Mobile
The Remote Banker by Ignite Sales
Tinyclues
TrafficGuard - clarity beyond measure
Ziflow
Small Company (101 - 999 employees)
ActiveCampaign CXA Platform
Alison by yellowHEAD
Birdeye
Chatmeter
Connex® by Rise Interactive
Contentstack
Iterable
Marchex Engage
MediaGuard (formerly Advertising Integrity)
Perfect Corp. 3D AR Virtual Try-On Solution
Pitcher
Pricefx
Smartly.io
SugarCRM
Xactly
Xtremepush
Medium-Sized Company (1000 - 9,999 employees)
Content Management System by OYO Hotels & Homes
D&B Rev.Up ABX by Dun & Bradstreet
IFS Cloud
PGIM
Illumis™ by Valassis, a Vericast business
Zeta Marketing Platform by Zeta Global
Large Company (10,000 or more employees)
Accenture Solutions.AI for B2B Growth
Care Orchestrator by Philips
Merck & Co., Inc. - Datorama Dashboard
Merck & Co., Inc. - Merck.com
Merck & Co., Inc. - Promotional Quality Automation (PQA)
A small group of companies, selected by judges, were also named "Finalist" in this years award program, including: Bango Audiences, Emissary, Marketing Integrity, MarketingCloudFX, Mirriad, Paperflite, Piano, Quartz Network, SmartyAds DSP, True Influence Marketing Cloud and Vivial.
The Business Intelligence Group also announced that nominations for The BIG Awards for Business are due October 14. Billed as the original open source awards program, the BIG Awards for Business was first launched in 2012 and rewards companies, their products and their people in all major verticals. To download a nomination guide, visit https://www.bintelligence.com/big-awards-for-business.
About Business Intelligence Group
The Business Intelligence Group was founded with the mission of recognizing true talent and superior performance in the business world. Unlike other industry award programs, business executives—those with experience and knowledge—judge the programs. The organization's proprietary and unique scoring system selectively measures performance across multiple business domains and then rewards those companies whose achievements stand above those of their peers.