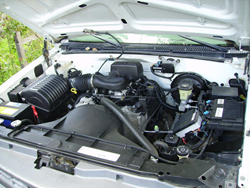 The used Vortec V8 engines that we have entered into our inventory for sale are part of our continued effort to support Chevrolet and GMC vehicle brands
San Diego, CA (PRWEB) July 14, 2015
The larger sized V8 motors that were manufactured between 2007 and 2009 by General Motors in North America can now be purchased online using the Preowned Engines website. Silverado truck owners or mechanics will now be able to buy used 6.2L Vortec Max V8 engines this year. Detailed information about inventory can be found at http://preownedengines.com/6-2l-vortec-max-engine.
The blocks that have been entered into the warehouse inventory include the 10:4:1 ratio editions. These models have a standard horsepower limit of 403 and come with authentic OEM parts. Inspections for the inventory have been conducted to ensure the correct mileage is listed as well as details about block condition.
"The used Vortec V8 engines that we have entered into our inventory for sale are part of our continued effort to support Chevrolet and GMC vehicle brands," said one Preowned Engines company sales specialist.
The Vortec Max 6.2-liter blocks that are available for body shop owners or consumers to purchase are shipped out this year with a respected third-party warranty. No mileage restrictions are written into the agreement, and purchasers do not have to pay extra to receive the expanded coverage that is included.
"The used Vortec truck motors that we have added to our website inventory are expected to help people hoping to find more than one RPO version for sale," said the sales specialist.
People who plan to make a purchase of any of the used condition Chevrolet truck engines available this year will be able to process orders faster using the offline support number. Incoming calls to the order line at 1-866-320-1065 are now answered by sales support specialists with knowledge of the entire GM product line.
About PreownedEngines.com
The PreownedEngines.com company is one major source to locate and to buy gasoline and diesel vehicle motors. The company now features thousands of SKUs and part numbers that are part of its used condition inventory for sale. The PreownedEngines.com company uses a team of professionals in order to acquire what is presented on its website for sale daily.