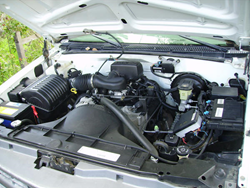 Our preowned inventory now features LGH, LMM, LB7 and LBZ RPO codes to help the public match the correct Duramax block required
Chicago, IL (PRWEB) August 31, 2015
The co-venture between General Motors and Isuzu helped to launch the DMAX series of diesel vehicle motors in the year 2001. Due to current demand, the GotDieselEngines.com company is now able to supply used 6.6L Duramax diesel engines through its modified web inventory of replacement components at http://www.gotdieselengines.com/6-6-duramax-engine.
The DMAX blocks that consumers can explore through the upgraded inventory now posted on the GDE website can be installed into various GM produced motor vehicles. The HD Silverado, Kodiak, Express and Top Kick have been verified to work with the 6.6-liter builds that feature a 402 cubic inch displacement. This validation should eliminate the potential for installation errors.
"Our preowned inventory now features LGH, LMM, LB7 and LBZ RPO codes to help the public match the correct Duramax block required," said seller at the GotDieselEngines.com website.
The broad components inventory currently showcased at the GDE company is due in part to the inclusion of Northwest salvage suppliers in the components network. The preowned DMAX engines will now be fulfilled through this network, and shipments to consumers will be delivered without delays.
"The Chevrolet-Isuzu diesel motor blocks that we have added to our website will be sold with our regular components warranty policy," the seller included.
Consumers who are not used to quoting prices or ordering on the GotDieselEngines.com website can call the toll-free customer number at 1-888-583-4409. A team of specialists is now answering all calls to this number. A VIN lookup, explanation of warranty protection plans and details about arranged shipments will be provided to consumers.
About GotDieselEngines.com
The GotDieselEngines.com company features one of the largest all diesel vehicle parts inventories in North America. The company acquires all listed components on its website through salvage resources. The GotDieselEngines.com company specializes in showcasing industrial, automotive and Marine diesel products for consumers to compare or purchase daily.