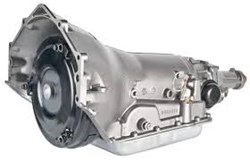 The 6-speed transmission is one of the largest in production and one of the first of its kind for automakers producing consumer vehicles.
Santa Fe, New Mexico (PRWEB) August 20, 2013
Chevrolet pickup trucks are built with engines and transmissions that are precision engineered by General Motors in all parts of the world. Transmission units for popular pickup trucks can now be purchased through the GotTransmissions.com company. This company is now discounting the price of its 6L80E transmissions for trucks at http://www.gottransmissions.com/blog/chevy-transmissions/chevy-transmissions.
The 6-speed transmissions like the 6L80E now feature electronic controls that provide uninterrupted shifting performance that is controlled by a transmission module.
This new technology is part of the 21st century engineering by General Motors for its pickup truck series.
"The 6-speed transmission is one of the largest in production and one of the first of its kind for automakers producing consumer vehicles," said a salesman for the Got Transmissions company.
The electronically controlled units that are currently marketed by this company are preowned and inspected for quality.
Total mileage is only one part of the research process that a person goes through when researching used automotive parts and accessories online.
Exterior quality of attached components can impact the functionality of any transmission. Internal gearing and fluid maintenance also play roles in transmission longevity.
"Our company does not rebuild transmissions for sale although we inspect what we sell with our quality control practices," the rep confirmed. Some companies rebuild units that have deteriorated parts and pass this increase price along to consumers.
The previously owned transmission inventory that is currently marketed in Chevrolet builds receives internal inspections by Got Transmissions staff. These inspections are coupled with the introduction of the three-year warranty policy announced in 2013.
All General Motors builds including the new 6-speed units discounted for sale receive these protection measures.
About GotTransmissions.com
The GotTransmissions.com company website features simple ways that transmissions can be located without performing additional online research. The company staff provides updates to all content that is published on the company website for immediate consumer research. The GotTransmissions.com company is able to secure some of the lowest transmission prices that are currently promoted online. Through consistent monitoring and development, this company provides affordable prices as well as protection in the form of a used transmission warranty attached with every sale processed by telephone or online.