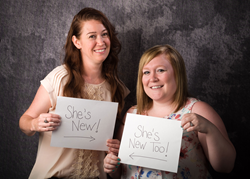 From a one man start-up operation to a team of eight with year over year growth, Idea is a healthy and strong marketing company
Yorkville, IL (PRWEB) July 23, 2015
Idea Marketing Group has been full of big changes recently. Starting with the an office move to Yorkville, IL for some extra space and a upgraded location, they are now officially celebrating six years in business. To add to the excitement, they have also hired two new staff members to round out the team.
Six years ago, Darren Fox founded Idea Marketing Group and began designing and developing websites for local area businesses, many of whom are still with Idea today. Although some thought he was crazy starting a business in the middle of a recession, Darren had vision and insight to help businesses grow through their online presence with stellar websites, strong SEO, and digital marketing. In six years, Idea has grown out of three office spaces and increased in size to eight full time employees. Through referrals and the same marketing practices that they employ for clients, Idea has produced some great results.
"It's amazing to look back and realize how far we have come. From a one man start-up operation to a team of eight with year over year growth, Idea is a healthy and strong marketing company and I'm excited about what the future holds for Idea Marketing Group," says Darren Fox, founder and president of Idea.
Idea recently brought on a two new staff members. Therese Ballinger joins the Idea team as the new project manager. With over 10 years experience in the digital marketing and web design industry, Therese brings fresh insight and a wealth of experience in transforming client needs into polished web projects. With a laid back attitude, yet goal-driven objectives, Therese is already implementing new projects to increase efficiency and add a level of service to the growing company.
Gayla Myer is the team's newest web developer. With over nine years of experience designing websites, Gayla describes her style as fresh and new, always keeping up with the latest web design trends. Her strengths in animation and functional website usability bring added talent and energy to the work that Idea can produce, and to the team as a whole. Gayla's full bio is listed on our website.
Described as a Chicago marketing agency in the 'burbs', Idea lives up to its name with an experienced and high-level professional team. Idea hosts a client base throughout the greater Chicago area, as well as clients nationally and internationally. In just six short years, they have established themselves as experts in digital marketing and delivered top notch results. The upcoming years are sure to hold more industry changes and they are ready to dominate it as a team on behalf of each one of their clients.
Idea Marketing Group is a marketing and web design firm located near Chicago, IL. Idea has extensive experience working with hospitality, nonprofit and manufacturing industries. With goal-driven marketing, Idea works with their clients to meet their digital marketing needs as well as create user-friendly websites catered towards their audience. Clients choose Idea Marketing for award winning web design and marketing services from an experienced and passionate web team that helps grow businesses and excel nonprofit causes. To learn more about Idea Marketing Group, visit http://www.ideamktg.com or call 312.834.7001.