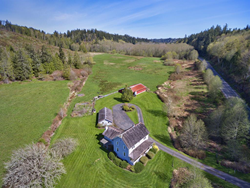 "The upper property plateaus have significant views to Mount Rainier, the Olympic Mountains and Beaver Valley." - Kent Berryman
POULSBO, Wash. (PRWEB) July 18, 2018
Broker's Julie and Kent Berryman, of TheMLSonline.com, recently listed a 77-acre farmhouse property in Poulsbo, aka "Viking City," a thriving community with many amenities that attract tourists. Included with 77+ acres and 3 parcels is a durable 1905 two-story farmhouse on ten meadowed acres along Dogfish Creek. Marketed in present condition, the home has been stripped to the original vertical-grain fir studs for simplified completion of electrical, plumbing, HVAC, and other personal finishing preferences.
The home (3,672 square feet, 4-bed/2-bath) has two stories with spacious rooms and an unfinished basement. Outbuildings include a large barn and four-car carport or shop area. Potable water is supplied by a highly productive well with a new pressure tank and oversized electrical panel. "The existing septic system will need to be replaced by the buyer," said Julie. "Full seller disclosure and other property information is available for review."
The other parcels present noteworthy options. After several site visits and investigation with local engineers and surveyors, Kent prepared several potential development options. "The upper property plateaus have significant views to Mount Rainier, the Olympic Mountains and Beaver Valley," noted Kent.
"The potential creation of up to 6 additional 10-acre homesites would probably require a new access road to serve these properties, though private road Beaver Ridge Lane could also serve these homesites with an agreement," said Julie. "Community septic and well development agreements for these homesites might further optimize open space and marketability. Portions of the upper plateaus were harvested for timber and replanted with over 10,000 flourishing evergreen trees."
The lower meadows were used for organic lettuce and blueberry production, cattle and goat grazing. Kent adds, "The ranch sold its produce at the local farmer's market in the early 1900's. It has been occupied by only two families over the 113 years." The property abuts Dogfish Creek and has an existing culvert crossing to Big Valley road near the farmhouse, providing ready access to Poulsbo shopping, great schools, and Kingston-Bainbridge Island ferries to Seattle.
For additional inquiries, please contact Julie at (360) 271-6719, Kent (360) 620-4656, or visit http://www.JBerryman@TheMLSonline.com.
About Julie and Kent Berryman of TheMLSonline.com
The Berryman's moved to Poulsbo in 1992. Julie has worked in all facets of real estate as a Broker for the past 15 years. Kent joined Julie after 30 years as a licensed Landscape Architect in several states; during his career he provided master land planning and project management services for College Marketplace noted above, and Suncadia Resort among other significant projects throughout the USA and overseas. Perhaps a product of their teamwork and professionalism, Julie and Kent earned national distinction for highest sale volumes for each of the past 5 years. In 2017 their sales exceeded $23 million for property listings and sales in Kitsap County and surrounding areas.
About the NALA™
The NALA offers small and medium-sized businesses effective ways to reach customers through new media. As a single-agency source, the NALA helps businesses flourish in their local community. The NALA's mission is to promote a business' relevant and newsworthy events and achievements, both online and through traditional media. The information and content in this article are not in conjunction with the views of the NALA. For media inquiries, please call 805.650.6121, ext. 361.