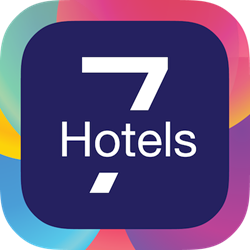 Big discounts at top hotels - with the 7hotels.com new app!
London, UK (PRWEB) January 08, 2014
It's little known amongst travellers (but it's currently under investigation by Britain's Office of Fair Trading - see link below), but they pay a hidden and unnecessary 20 to 25 percent premium on every hotel booking online - whether going direct to the hotels' own website or using what are known as "vampire" online booking sites.
This is because the online sites charge the hotels a "vampire fee" of 20% to 25% on every booking, just for showing the same details as the hotels' own sites … but here's the rub.
Their rules don't allow the hotels to show a cheaper rate than their own sites show - so a hotel is contractually bound not to discount online lower than the booking sites decide.
This means guests unwittingly pay a hefty, hidden, premium each time they book, however they book.
Hotels really hate this "vampire fee" - and they don't like the booking agencies, as 20% to 25% of the booking is a huge amount to pay.
However, many hotel guests are unaware of the fact that the agencies make such huge commissions - and that the hotel is not allowed to undercut them, even for their own rooms.
They have no choice and, indeed, hoteliers have absolutely no control over their own room rates anymore.
The new, simple and totally free, 7Hotels app legitimately gets around this problem.
Initially launched for the most visited cities in the world, it allows travellers to see all the details of the top 7 hotels in each city, hotels which are specifically chosen as they offer the best possible balance between price and quality in every case.
Users can see a map, photos and independent reviews of each of the selected hotels - but then, with a touch on the screen, guests can receive potentially huge discounts, all without breaking the hotels "vampire fee" contract with the booking agencies.
By utilising this new app, the carefully chosen hotels shown are able to offer a promotional rate (which they are not allowed to offer even on their own web site, remember).
However, since it's almost impossible to find a hotel overview of a city which is not powered by a booking engine, the app's designers decided to take a "Yellow Pages" approach where the guest has an overview of the best quality and value hotels in each city and is thus able to call the hotel directly and hence get the best possible rate - whilst never breaking the strict "vampire fee" contracts with booking agencies.
As only the top 7 hotels by value and quality in each city are shown, the app is appropriately called "7hotels" and is available for download now from the Apple Store - https://itunes.apple.com/us/app/7hotels/id729679809?ls=1&mt=8.
An Android version is only a few weeks away. The app will always be free and there are absolutely no booking fees or commissions of any kind.
Notes for Editors:
OFT Investigates hotel booking online
Investigation into the hotel online booking sector:
http://www.oft.gov.uk/OFTwork/competition-act-and-cartels/ca98-current/online-booking/#.Uoi6ZWTXSwE
Website:
http://www.7hotels.com
App Store Link:
https://itunes.apple.com/us/app/7hotels/id729679809?ls=1&mt=8
Contacts (not for publication):
Alun Hill
Press (at) 7hotels (dot) com