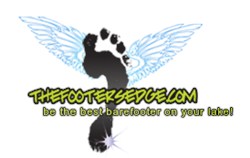 The Footer's Edge is now offering Fat Sac Pumps and training courses that make wakeboarding easier than ever. Their full line of tutorials and products can be viewed online at http://www.thefootersedge.com.
Winter Haven, Florida (PRWEB) August 07, 2013
Learning how to Wakeboard, barefoot water ski, or water ski can be tough. At its worst, it involves a foggy day on a lake, and some poor sap holding on to a small piece of rope as a boat careens them upwards of 60 miles per hour across the water. Then, once they let go of the rope they sink slowly into the murk, praying that they can unhook and get their skis back, and get back into position. Or, if they're lucky, they can get up on the wakeboard, and follow an anemic, wimpy wave. However, learning how to wakeboard is now easier than ever thanks to the new line of fat sac pumps from Footer's Edge.
Learning to water ski or wakeboard doesn't have to involve praying with The Footer's Edge. Owner Lane "Dawg" Bowers says to "expect a miracle". And fans of the Winter Haven, FL company can back it up. (For celeb watchers, these fans include inspirational speaker Tony Robbins and former Massachusetts governor Mitt Romney).
Army chief MJ Hartman praised the easy techniques of The Footer's Edge. "I like the detail you go into and the way you break things down into bite size pieces…" he raves, "I get so pumped up watching the video." Hartman even watches the videos during his downtime on base.
Although the Footer's Edge offers excellent training videos, their key difference is their technological savvy. Their fly high fat sacs for wakeboarding are made of Valmex, normally used in white water raft construction. The Valmex allows additional weight distribution, which means bigger wakes behind the boat, which any wake boarder knows is more fun.
Unlike traditional ballasts, The Footer's Edge fat sacs ballasts can fit any space. Even better Valmex comes in a variety of colors, to match your ship of choice. But don't expect weighty ballasts you have to drag to the lake; with the tsunami pump (also sold by The Footer's Edge), you can take lake water and create your own ballast. It takes only minutes to fill, which leaves you with more time to shred the lake.
It seems the days of lousy days on the lake are over. The Footer's Edge can be reached at http://www.thefootersedge.com, or by phone 1-877-685-6270 x8 or direct 1-863-268-0111