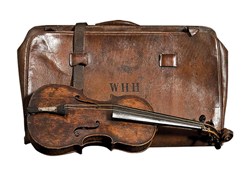 The famous violin played by musician Wallace Hartley as the Titanic disappeared into the Atlantic is now on display at the Titanic Museum in Branson, Missouri. Detailed information is available online at http://www.titanicbranson.com.
Branson, Missouri (PRWEB) August 08, 2013
When looking for things to do in Branson, the Titanic Museum offers a sensational, immersive experience into one of history's most prolific events. From August 1st – August 15th, guests will have the exclusive opportunity to view the long-lost Titanic violin of musician Wallace Hartley. The violin was played by the illustrious musician as the ship made its decent into the abyss on that fateful day in April of 1912. This historic instrument will make its last public appearance in the United States at Branson, Missouri's Titanic Museum before being shipped off to England where it will be sold at auction to the highest bidder.
Branson, Missouri offers a vacation-going experience like no other. The Titanic Museum stands out as one of the best attractions in Branson, by offering a stunning array of family friendly entertainment that is not only educational but awe inspiring.
Since opening its doors in Branson, in 2006, over 5 million people have discovered the historic grandeur of the Titanic Museum. Recently, Trip Advisor awarded the attraction with an "excellence certificate" and the site was named as one of the top ten 'friendliest locations'. While there are many attractions in Branson, the Titanic Museum offers the unique opportunity for history to come alive. It is a family friendly museum for people of all ages.
Tickets are going fast and sold in a variety of packages. Visitors can buy individual tickets for adults and children, family packages, and exclusive VIP tickets. VIP tickets range from $60 for adults, $30 for children, and $125 for a family pass. For the first time ever with your exclusive VIP ticket, guests will receive a limited-edition commemorative poster of the event, a VIP guided tour with a Titanic crew member, and take a photo with the legendary violin. The Titanic Museum is dedicated to paying respect to all 2,208 Titanic passenger and crew.
For more information visit http://www.titanicattraction.com .