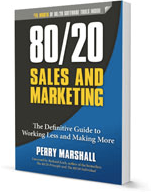 Las Vegas, NV (PRWEB) May 31, 2014
80/20 Sales and Marketing, a compilation of powerful business advice written by marketing expert Perry Marshall that has been recommended by Forbes magazine has caught the attention of Shane Michaels, prompting an investigative review.
"Perry Marshall's 80/20 Sales and Marketing really is the holy grail of marketing advice," reports Michaels. "Whether someone is looking to grow their new startup business or to improve their multi-million dollar corporation, this book presents knowledge and advice that literally anyone can apply to their marketing practices."
80/20 Sales and Marketing is based off of the well-known marketing premise that 20 percent of customers make up 80 percent of a business's profits, that 20 percent of marketing messages produce 80 percent of the results, and so on. Perry Marshall has expanded on this principle to give marketers actionable ways they can improve their sales and overall increase profits by focusing on an 80/20 mindset. In the book, Marshall outlines how marketers can access "found money" that already exists in their customer list, how they can determine the cost of increased market share well in advance, how to make email marketing more effective, how to apply the 80/20 principle to direct marketing, how to make time management more effective, and more. 80/20 Sales and Marketing has already helped thousands of people improve their businesses dramatically using the simple principle that Marshall outlines. For a limited time, Perry Marshall is offering a copy of the book to everyone for just one cent, plus the cost of shipping. In addition to the paperback book, customers will also receive three instant download bonus materials including Perry's landmark video presentation, the 80/20 Shortcut Guide, and Power Leverage in Google AdWords with 95/5.
"Most people in the marketing realm think they know about the 80/20 principle, but the truth is that until they've read this book, they don't truly understand it," says Michaels. "This book gives anyone the knowledge they need to take their business to new heights that they didn't think were possible before."
"With the one-cent offer Perry Marshall is currently providing, any marketing professional really can't afford not to order a copy of this book. It's almost a nonexistent investment for a massive amount of return they'll see by using the principles in this book."
Those wishing to purchase 80/20 Sales and Marketing or for more information, click here.
To access comprehensive 80/20 Sales and Marketing customer reviews, visit their official site here.