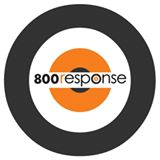 We're proud to be on the forefront of developing a proven application, and staying ahead of call routing technology solutions for our customers.
South Burlington, VT (PRWEB) November 10, 2015
800response (https://www.800response.com/), the leading provider of unforgettable vanity 800 toll-free phone numbers, multifaceted call routing technology, and call tracking metrics, today announces the development and successful implementation of a cell phone call routing application. Cell Phone Smart Routing™ handles a broad range of complex call routing needs with a high degree of precision.
This patent-pending mobile call routing technology is unique to 800response, and is not available through other advanced call routing providers in the telecom industry. 800response has been providing this revolutionary technology to their customers for over one year, and has made enhancements to the application along the development path. The application was developed entirely by the in-house development team at 800response and is being used by hundreds of businesses across North America.
"We have over 25 years of experience providing customized advanced call routing services to customers with hundreds of locations using a diverse method of call routing types. Our customers and their needs have grown over the years as their businesses have grown, and we've been able to meet the demand to route cell phone calls with a high rate of accuracy. We're proud to be on the forefront of developing a proven application, and staying ahead of call routing technology solutions for our customers," says Laura Noonan, Senior Vice President of Sales and Marketing at 800response.
Routing cell phone calls accurately based on geographic location of the caller has long been a challenge in the telecom industry. As the use of mobile phones has grown over the last ten to fifteen years, accurately routing calls has become more difficult due to the mobility of callers.
"We have routed calls for multi-location networks that exceeded 1,200 locations for a single client, and for large franchise-based businesses that have multiple locations within a small proximity or geographic territory. The Cell Phone Smart Routing™ application is proven to accurately route an extremely high percent of cell phone calls based on the coordinates of the cell phone location. With such a high success rate of matching cell phone locations, our latest call routing application delivers low abandon rates, and alleviates the majority of cell phone callers from having to use their handsets to use a call prompt or IVR in order to reach the location they are looking for. This is invaluable as more states implement hands-free laws," says John Evancie, VP of Information Services at 800response.
800response celebrates their 25th anniversary this year, and continues to be on the forefront of technology development and regulations in the telecommunications industry. Today, the company's innovative cell phone routing solution has a high rate of accuracy, and 800response customers using the application to direct mobile calls to multiple locations of their businesses are happy with the solution and the degree of precision that their calls are routing.
Learn more about advanced call routing solutions by visiting http://www.800response.com/tracking/call-routing/.
About 800response & CallFinder
For 25 years, 800response has maintained the widest selection of toll-free vanity 800 telephone numbers available today. In addition, 800response provides customers with customized call routing applications to ensure that every inbound call is accurately routed to the exact location based on the customer's business needs. In 2012, 800response launched CallFinder, a speech analytics solution, to provide customers with call analytics, closing the knowledge gap on voice of the customer metrics. CallFinder speech analytics provides insights into the customer experience to facilitate improvements in ROI and quality management programs. Learn more about 800response and CallFinder at https://www.800response.com and https://www.mycallfinder.com.