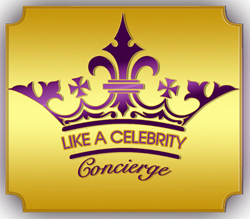 The excitement and attention they will bring to our booth is exactly what we need to stand out!
New York, NY (PRWEB) August 14, 2013
A new brand ambassador concierge and lifestyle management service from Like A Celebrity is opening doors, catapulting sales and taking brand recognition to the next level. Launching August 17 at the most sought after trade show/event space in the United States, Like A Celebrity has created a rare and huge opportunity for up and coming entrepreneurs looking to generate buzz and leave a lasting impression with the 35,000+ global buyers in search of that next must have item.
Brand ambassadors and promotional models add tremendous value to the trade show experience when executed correctly. They drive traffic to booths, increase brand awareness, engage visitors, and distribute promotional and marketing material.
"We strive to grow with entrepreneurs, we are their biggest cheerleaders!" said Latisha Kenya Murray, founder and chief relationship manager of Like A Celebrity. "When they're ready to take their business to the next level by investing money into these shows, it makes sense that we continue to support them with ingenious services. We know their brands better than anyone and our brand ambassadors can represent them as if they're an extension of their company, which is how Like A Celebrity already operates. It's so perfect!"
Like a Celebrity will officially debut its brand ambassador and promotional model services on August 17th at the NY NOW Expo in New York City. They will promote the lifestyle brands of Lauren St. Julian and Vedazzling Accessories, featuring their one-of-a-kind, affordable, luxury accessories.
"It's a brilliant formula! Like A Celebrity will help bring people in and drive traffic to us." said Tanya Brown of Lauren St. Julian. "The excitement and attention they will bring to our booth is exactly what we need to stand out!" added Velvet Lattimore of Vedazzling Accessories.
Be sure to visit Pier 94 Booth #11209 to meet the ladies behind these up and coming lifestyle brands.
About Like A Celebrity, LLC
Like A Celebrity is a boutique full service virtual and personal assistant agency serving metropolitan areas. Since 2008, Like a Celebrity's team of U.S. based professional assistants have been dedicated to the advancement of entrepreneurs and busy professionals. The company offers affordable access to round-the-clock virtual assistants and personal assistants on an as-needed basis. Like A Celebrity liberates entrepreneurs and busy professionals from the little things, so they can get more done, make more money, and have more fun. For more information visit http://www.likeacelebnyc.com/.