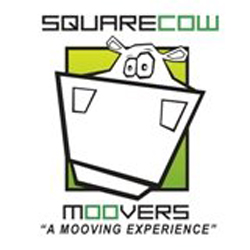 It was an easy decision to sign on and help them out. We're proud to say we've been a part of Move for Hunger for four years now. - Wade Lombard
Austin, TX (PRWEB) September 24, 2014
Square Cow Movers has just made an 82lb food donation to Capital Area Food Bank of Texas thanks to their generous clientele. It is enough food for 68 meals that will go to people in real need. The donation is part of the Move for Hunger organization's ongoing effort to fill food banks across the country so that no one has to go hungry.
"We were contacted by the non-profit organization Move for Hunger a few years ago," explained Wade Lombard, one of the owners of Square Cow Movers. "They are so passionate about ending hunger, and they have found a great way to facilitate food donations. It was an easy decision to sign on and help them out. We're proud to say we've been a part of Move for Hunger for four years now."
Mr. Lombard and other relocation companies understand that any time a person moves out of their home they are going to clean every room in the house including the pantry. It's common for people to either give away or simply throw out the food items that they are not taking with them. Move for Hunger set out to capture some of those pantry items, and get them into the hands of those that need food the most.
Square Cow Movers, along with all the moving companies that partner with Move for Hunger, act as a conduit between the client and the local food bank. It's an easy way for those that are moving to help those in need by putting their unwanted items to good use. The participating mover will pack up the donation during the move and then deliver it to the local food bank at a later date.
Most of Square Cow Mover's latest 82lb donation was made by clients and the rest came from the company. Move for Hunger is continuously looking for new relocation and real estate partners that are willing to collect non-perishables items such as dry goods and canned food from their clients. To learn more about the Move for Hunger organization please visit their website at: http://www.moveforhunger.org
To learn more about Square Cow Movers, their community involvement and the services they offer, please visit: http://www.squarecowmovers.com
About Square Cow Movers
Square Cow Movers isn't your typical moving company. Using the Art of Mooving - a no bull, customer-first code of ethics - Square Cow Movers has built a business on providing a personalized moving experience that takes the stress out of a move. With locations in Austin and Houston, Square Cow Movers is the go-to resource for moving in Central Texas.