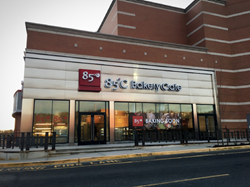 Tukwila, WA (PRWEB) February 24, 2017
85ºC Bakery Cafe, a Taiwanese bakery chain, opened its very first Washington location on February 24, 2017 in Tukwila. The store is located at 1341 Westfield Southcenter Mall, the opening of the Tukwila location is a milestone for the brand as it is not only the first 85ºC Bakery Cafe in Washington, but also the first 85°C Flagship store in the North West. Moreover, Miss Washington USA 2017 Alex Carlson Helo has joined the ribbon-cutting ceremony to welcome 85ºC Bakery Cafe to her home state in Tukwila, Washington.
85°C Bakery Café forever revolutionized the coffee industry when the chain first introduced the iced sea salt coffee as a perfect balance of salty and sweet. Within the last few years of operation in the U.S., 85°C has served over 2 million cups of iced sea salt coffee that may easily accommodate the Washington state. As a grand opening celebration, the 85°C Tukwila, Washington store is the first location to offer 10¢ for an iced medium sea salt coffee. This highly sought after drink from 85°C is normally priced at $3.00 but is now offered in medium size for only 10¢ exclusively on the grand opening day.
Alex Carlson Helo, Miss Washington USA 2017, cheerfully welcomed 85ºC to her home state. Alex was introduced as an ambassador to the Washington state during 85°C's VIP & Media reception an hour before the grand opening event, there she shared her excitement and open arms to the Taiwanese bakery chain. Upon entering the Northwest State, the Operating Director of 85ºC Charles Wu stated: "This is our first flagship store in the north-west, we are honored to be baking and brewing in Tukwila, Washington. We cannot wait to offer our service and products to the rest of the nation."
Founded in 2004, 85ºC Bakery Cafe has always been operating with the goal to provide high-quality products at affordable prices. Like the Washington state, rain or shine, 85ºC also has a big concept with diverse product lines and large selections. Every store offers 60 types of breads, varying from Asian to European styles; plus, over 40 types of cakes and various beverages to enjoy. As a fast-casual bakery and cafe, 85ºC utilizes a self- serve bread section, where customers have complete freedom to pick out their favorite items.
For more information about the new Tukwila, Washington location visit http://www.85cbakerycafe.com or call
(206) 244-1885.
About Us
The name "85°C" refers to the bakery chains founder Wu Cheng-Hsueh belief that 85°C (185°F) is the optimal temperature to brew coffee. Bakery Cafe, a new concept of a bakery cafe, specializes in bread, coffee, tea, and cakes. It is a global bakery & beverage retail business publicly traded in Taiwan with over 900 stores worldwide, including Taiwan, China, Australia, Hong Kong, and the U.S. Top selling products but are not limited to are Brioche, Marble Taro, Iced Sea Salt Coffee and Mango Crème Brule.
85°C Bakery Cafe Tukwila
Location: 1341 Southcenter Mall, Tukwila, WA 98188
Hour: Mon – Thu 7:00 am- 10:00 pm,Fri – Sat 7:00 am - 12:00 am,Sun 8:00 am - 10:00 pm
Tel: (206) 244-1885