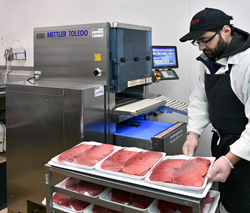 It's a lot more efficient, and saves a lot of time.
(PRWEB) July 24, 2017
Glass Gardens ShopRite is a family-owned group of supermarkets operating under the Wakefern banner in the densely populated and highly competitive Northeastern corridor. The company was founded 80 years ago when two Glass brothers started a small produce business. In 1955, the brothers opened their first store, and today operate eleven ShopRite stores under the umbrella of Wakefern – a member-owned cooperative which boasts 335 supermarkets in a nine-state area stretching from New England to the Mid-Atlantic states.
Glass Gardens' mission is simple yet ambitious – to quietly become the uncommon best: with an atmosphere that encourages productivity, job satisfaction, safety and cleanliness; with continuous growth fueled by competitive pricing and without compromising on the commitment to quality; and with an ever-present goal of exceeding customer expectations and providing them with peace-of-mind.
From an efficiency standpoint, the department personnel have been understandably impressed by the speed of the wrapper. But they have also observed a number of additional advantages, including ergonomic benefits, noise reduction, reduced manpower needs, space savings, a tighter and more professional looking wrap, and less time spent on film roll replacement, clean-up, and repackaging.
"It's a lot more efficient, and saves a lot of time," said Meat Department manager Bill Scorzetti.
Department associates also marvel at how such a complex machine – which offers layers of advanced functionality – can be so intuitively easy to learn and operate. On-screen tutorials guide novice users through the various processes, while the 880's tactile keyboard, internal memory and visual display enable quicker, more reliable shifts when changing stock. Customizing labels and pinpointing their location on the packages is just one more advantage noted by the Pearl River team.
Perhaps the most critical advantage pointed out by the associates, however, is the ease of troubleshooting when minor mishaps occur. Thanks to the clear, visual and easy-to-understand instructions, operators have been able to take care of every situation themselves during the six months post-installation. Clearly, the combination of next-level functionality with intuitive ease of use makes the METTLER TOLEDO 880 Auto Wrapper a piece of equipment that Pearl River ShopRite associates agree they are fortunate to have the opportunity to use.
To download the case study and learn more about the 800 Auto Wrapper, visit http://www.mt.com/retail-shoprite.
About METTLER TOLEDO
METTLER TOLEDO is a leading international manufacturer of precision measuring instruments. The company is the world's largest manufacturer and supplier of weighing systems for laboratories, industry and food retail.
METTLER TOLEDO is one of the three leading suppliers of various complementary measuring technologies and a leading supplier of automated pharmaceutical research and ingredient development systems. Moreover, the company is the world's biggest manufacturer and supplier of metal recognition systems for the production and packaging industry. Further information on METTLER TOLEDO Retail can be found at: http://www.mt.com/retail.