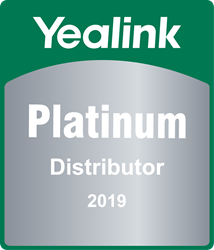 It has always been and continues to be a tremendous honor to have 888VoIP named as a Yealink Platinum Distributor.
BUFFALO, N.Y. (PRWEB) April 24, 2019
Yealink, a global leading unified communication (UC) solution provider, announced today that 888VoIP, a leader in VoIP distribution, has once again received the acclaimed designation of Platinum Distributor. 888VoIP was awarded this title due to commitment and dedication to the Yealink brand throughout 2018. 888VoIP has been able to successfully propel the Yealink business by paying thorough attention to customers' needs and determining the proper Yealink solutions to align with their goals. Additionally, 888VoIP's ever-growing channel of Resellers, Service Providers, and Integrators has immensely contributed to the obtainment of Platinum Distributor.
"It has always been and continues to be a tremendous honor to have 888VoIP named as a Yealink Platinum Distributor," said John Molino, Chief Executive Officer of 888VoIP, "We pride ourselves on keeping that distinguished status and have full confidence that we will continue to do so in the future. Our partnership with Yealink is of utmost importance to our entire team and our goal is to progress Yealink business far into the future."
888VoIP boasts an extensive Yealink product portfolio with solutions for all deployment scenarios, verticals, and end-users. Solutions include the sophisticated new T5W series of Prime Business Phones and the wireless CP930W conference phone. Over the course of 2018 and into the early months of 2019, Yealink has been continuously releasing advanced, innovative devices. These solutions have consistently met and exceeded the needs and expectations of 888VoIP partners and have provided these partners with exciting new sales opportunities. 888VoIP and Yealink have displayed a strong partnership over the years, one that the distributor foresees will continue with momentum throughout 2019 and beyond.
In addition to Yealink products, 888VoIP also offers managed partners access to the highly popular Channel Advantage Program. Managed partners can take full advantage of 888VoIP's knowledgeable expert team, which will handle back end procedures and processes. This allows partners to focus their full attention on the end-user customer. Channel Advantage services include provisioning, technical support, advanced API, customizable marketing, full cycle logistics, and more. This program has also assisted in boosting Yealink and 888VoIP sales throughout the past year.
About 888VoIP
Since 2006, 888VoIP has been a leading distributor of VoIP hardware and software solutions. 888VoIP is committed to driving customer success and does so by identifying and understanding customers' specific requirements and unique needs. By providing customers with the most innovative products, full cycle logistics, wholesale discounts, dedicated staff, and access to the Channel Advantage program, 888VoIP can assure the success of partners' projects Learn more about 888VoIP by visiting us on the web or following 888VoIP on Twitter.
About Yealink
Yealink is a global leading unified communication (UC) solution provider that primarily offers video conferencing systems and voice communication solutions. Founded in 2001, Yealink leverages its independent research and development and innovation to pursue its core mission: "Easy collaboration, high productivity." The company's high-quality UC solutions enhance the work efficiency and competitive advantages of its customers in over 100 countries. Yealink is the world's second-largest SIP phone provider and is number one in the China market. For more information, please visit: http://www.yealink.com. Linkedin | Facebook | Twitter