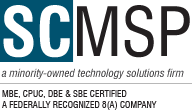 Said Derek Spotswood, a proud Georgetown University Alumnus of African-American descent: "Applying for and winning the 8(a) Certification was a promise I made to my father- a Korean War Veteran, when I started the company a few years ago
(PRWEB) June 13, 2014
Spotswood Consulting, dba SCMSP, a leading business technology consulting and wireless telecom solutions firm, is proud to announce the award of the 8(a) Program certification through the U.S. Small Business Administration. The 8(a) Program is an essential instrument for helping socially and economically disadvantaged entrepreneurs gain access to the economic mainstream of American society. The program helps thousands of aspiring entrepreneurs to gain a foothold in government contracting. The overall program goal is to graduate 8(a) firms that will go on to thrive in a competitive business environment. An 8(a) certified firm receives distinct advantages in the federal marketplace with set aside contracts, sole sourcing, and partnership opportunities. SCMSP understands the importance of Supplier Diversity procurement to the US job market, Government, and Large Enterprise organizations. As a Business and Information Technology and Communications (ITC) Consulting Firm focusing upon delivering innovative and complex Business and Technology Solutions they have the ability to be leveraged throughout an organization for Business, ERP, CRM, Business Intelligence, Call/Contact Center, Application Development, Infrastructure, and Wireless and Wireline Telecommunications solutions. Partnering with an 8(a) firm like SCMSP gives organizations a true strategic advantage.
Said managing director, Derek Spotswood, a proud Georgetown University Alumnus of African-American descent: "Applying for and winning the 8(a) Certification was a promise I made to my father- a Korean War Veteran, when I started the company a few years ago. Even though he has passed on I know that he is proud of this accomplishment. The 8(a) certification gives us access to the Federal marketplace as participants to sole-source contracts, up to a ceiling of $4 million for goods and services in ways that will make a meaningful difference in our company growth in the years to come. We are looking forward to partnering with established larger technology firms such as Lockheed Martin, Northrop Grumman, Raytheon, SAIC and General Dynamics, among others, to share our competitive advantage and expertise."
About SCMSP
The mission of SCMSP is to become a "Force Multiplier" for our customers and Teaming Partners in the private and public sectors by delivering comprehensive services and turnkey solutions required to design, build, optimize and maintain information technology and telecommunications networks.
As an SBA 8(a) Certified company and MBE, DBE and CPUC certified firm, SCMSP partners with supplier diversity teams to deliver business and technology solutions. SCMSP can provide added value to organizations through diversity supplier programs with their innovative business and technology solutions nationally and globally.
For More Information on the subject of this release or how to partner with SCMSP on Technology implementations, contact:
Nancy Clauss
SCMSP Marketing Director
Nancy(at)scmsp(dot)com
http://www.SCMSP.com
714-225-9981