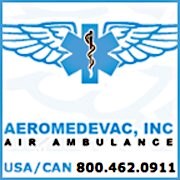 Aeromedevac is now providing emergency medical flights to all locations in Mexico as well as anywhere in the world.
San Diego, CA (PRWEB) September 11, 2013
Aeromedevac is now offering international air ambulance services to all locations in Mexico. Aeromedevac, the California air Ambulance that has helped save countless lives since it began service in 1992, provides some of the industry's most advanced, comprehensive and thorough training to its professional medical services teams.
Air ambulance medical flight providers are called upon to perform flawlessly in a number of challenging situations, and significant differences among providers, such as the level of relevant training provided to staff, can make a significant difference in the quality of service provided. Those seeking the services of an Air Ambulance Service must choose from a number of providers, and among the main criteria of the highest concern to potential clients is the preparedness of staff and crew of each flight. Aeromedevac handles routine medical transport as well as medical emergencies, and its personnel are trained to provide the utmost in safety in all situations. Through ongoing education and flight simulations they are well versed in the unique demands that air transport can present to medical providers.
Aeromedevac personnel stay informed and trained in the most recent innovations in the medical transport industry, and are trained and tested in handling the newest developments in medicine and technology. To ensure that Aeromedevac personnel master the most advanced skills and knowledge to ensure precise and flawless performance, they are trained in advanced cardiac, respiratory and medical-surgical diseases, aviation safety, altitude physiology, bio-terrorism, burns, decompression sickness, life-saving techniques, multiple trauma and obstetrics, pediatrics/neo-natal care, among other disciplines. Aeromedevac's training program for its personnel includes flight physiology and continuing education programs to ensure superior patient care.
Participation in regular flight simulation exercises helps to maintain the highest level of medical and aviation practices and ensures that patients aboard Medical Flights receive the highest level of care and the smoothest trip possible. To further enhance their training, flight teams regularly participate in exercise with local police and fire departments, branches of the military and emergency medical services agencies.
Providing fixed-wing air ambulance transport for those requiring specialized medical care, or in emergencies, where time is of the utmost importance, Aeromedevac transports patients quickly and efficiently without compromising the quality of care or the patient's safety. Clients include individuals in need of medical transportation, patients' family members and associates, as well as medical care facilities and government agencies.
Tested over the years, Aeromedevac has provided consistently high quality evacuation services in a number of different environments. Each transportation mission presents it's own unique requirements and demands specialized care.
While Aeromedevac is located in San Diego, it maintains an additional facility in Mexico to help enhance the country's limited resources in medical transportation, and where there is a frequent need for medical air transport. Facilities are staffed with experienced registered nurses and paramedics, and are on alert 24 hours a day, 365 days a year. All pilots and maintenance personnel are highly trained and experienced and professional, and are regularly recertified by the federal government. Aeromedevac responds within minutes to critical and non-critical medical situation, including cardiac, respiratory, trauma, burn, neurological, surgical, medical, and pediatric emergencies. Services provided include inter-facility transport, Mexico transports, Shriner's pediatric burn patient transports, longer distance inter-facility transports and medical standby for special events.
For further information on Aeromedevac, phone them, at 800-462-0911 or visit them online at http://www.aeromedevac.com.