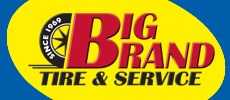 Big Brand Tire is now offering automatic discounts on all tires ordered online at www.bigbrandtire.com.
Thousand Oaks, California (PRWEB) September 11, 2013
Big Brand Tire & Service, Southern California's truly big name in cheap online tire dealers, is offering automatic discounts to online purchasers on top of its already cut-rate prices for the leading brands of car tires and truck tires. Buyers who place orders for four tires online at bigbrandtire.com can receive automatic $50 instant discount credits that can be used when they pick up their tires at any of Big Brand Tire & Service's 17 Southern California locations.
Finding the best prices on tire prices has never been easier than shopping online with Big Brand Tire & Service where a customer friendly website menu helps car owners match their specific tire needs, sizes and brands of their choice. Once tires have been selected, the $50 online savings voucher is entered in the customer's name in Big Brand's computer system and will be credited when the sale is completed.
Discounted tires are nothing new to Big Brand Tire & Service, the leading dealer known for its low prices and big time service warranty. The Big Brand's warranty is recognized throughout California as the best protection for car tires, including purchases of Santa Barbara tires, Ventura tires, Thousand Oaks tires, Bakersfield tires, Atascadero tires, San Luis Obispo tires, Camarillo tires, and Tulare tires. Big Brand specializes in major brands such as Goodyear, Michelin, BF Goodrich, Fallen, Cooper, and GT, to name a few. It is the place to go for the finest quality at costs that beat what many centers and chain membership stores charge for cheap tires, with a massive everyday inventory of discount tires on stock at all times. Tire buyers will be impressed with Big Brand's wide range of options for high performance tires, off road tires, light truck tires. ATV tires and SUV tires. They also provide complimentry alignment checks, tire rotations, and free estimates. As an additional convenience, appointments for service and repairs can be made online.
Everyday discount prices and superior customer service set Big Brand Tire & Service apart from the field, and savvy car owners know to keep an eye on Big Brand's list of specials on major manufacturers' tires and Big Brand's service center special offers on brake pad replacements, oil changes and a full range of car repairs and services in all of its locations. Current promotions include tire discounts and service specials with coupons that can be found online, including $40 off a four tire purchase of $400 or more and $25 off two or more tires purchased at $200 or more. Coupons are also available for oil change discounts, wheel alignment specials, shocks sales, and struts discounts. Mail-in rebate offers are also in effect from several major tire manufacturers for tires purchased through Big Brand Tire & Service.
Big Brand Tire & Service centers are also the one-stop shopping places for the leading major brands of custom wheels, including Asanti, KMC, American Racing, Diamo, and Alba. They also are the place to look for a full selection of custom rims and chrome wheels for cars, trucks, vans, SUVs, and imports at prices most dealers cannot come close to touching. All Big Brand centers also carry all leading names in lift leveling kits and off road wheels and accessories. Off road service and installation experts are always on hand to help with matching the best equipment for the individual driver's needs with the lowest prices on the market.
Big Brand Tire & Service is also known to for its liberal financing and easy credit terms. Buyers can apply for Big Brand's own credit card that provides California discount tire and auto service customers a five percent discount on purchases and the convenience and flexibility to buy now and pay later. Big Brand's cardholders receive notices of special promotional offers and a revolving line of credit for new tires, brake pad replacements, alignments, and all other products and services. The credit card application can be completed and approved in a matter of minutes online at bigbrandtire.com.
Information about store locations and hours, products and services offered, and hours of operation is available at Big Brand Tire & Service's website or by calling (888) 779-8473 toll free.