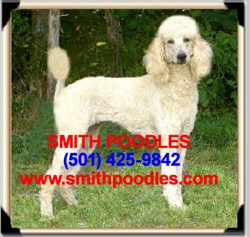 Leading poodle breeder Smith Poodles has placed award-winning poodles in homes in all 50 states. Smith Poodle's available liters of Standard Poodle puppies can be seen online at www.smithpoodles.com.
Little Rock, Arkansas (PRWEB) September 12, 2013
Smith Poodles, the professional Standard Poodle puppy breeders of Little Rock Arkansas, have recently reached a milestone of selling their poodles to every state in America and 15 countries around the world. The company has been breeding Standard Poodles, Parti Poodle puppies and a variety of others for decades.
Standard Poodles are known to come in a range of sizes and colors. Smith Poodles indicates that they choose their breeding poodles based on top health qualities and abilities. Each parent poodle is health certified for breeding, ensuring healthy pups.
Smith Poodles main claim to fame is their standard poodles, which are all AKC certified. Poodles come in every color and sub category, including Standard Parti Poodles, Standard Phantom Poodles and Brindle Standard Poodles. The company strives to breed for the best health, intelligence, temperament, uniformity, conformation and beauty. Smith Poodles has bred hundreds of Standard Poodles over the years and always keeps the highest standards in breeding and lifestyle of their poodles.
Smith Poodles strives for an excellent environment for each of its dogs. The company states that they have a large piece of land where the Standard Poodles are free to roam and socialize, guaranteeing they will be well tempered at the time of purchase. Customers and prospects are invited to visit the breeding facility. Federal regulations require strict adherence to high facility and shipping standards, something for which Smith Poodles is known.
"We have shipped several hundreds (of poodles) over the years and have never had a serious incident." says the company website.
The company's strict adherence to shipping regulations of dogs and animals has given the company much success and has built confidence in customers nationwide and worldwide. "My kids come home from college just to see her! She has such a wonderful personality, and is so much company, and brings so much joy into all of our lives." says Cheri Andrews, who purchased a Standard Parti Poodle to live with her and her family.
To learn more about Standard Poodles, Standard Parti Poodles and Brindle Poodles, or to learn how to purchase one from Smith Poodles, visit http://www.SmithPoodles.com.