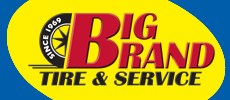 Big Brand Tire is now offering many special deals that can only be found online at www.bigbrandtire.com.
Santa Barbara, California (PRWEB) September 16, 2013
Big Brand Tire, a popular source of Santa Barbara tires and Thousand Oaks tires, is now offering a large selection of online deals. Discounts on tires, oil changes and other services are all available now via the company website at BigBrandTire.com.
$40 off – Big Brand Tire is now offering the best option for customers to buy cheap tires online with a $40 off coupon. The deal applies to any 4-tire purchase that exceeds $400 total. The coupon is only available to those who buy tires online through the company's website.
$25 off – Big Brand Tire is also offering a discount of the purchase of 2 tires, totaling $200 or more. Customers will save $25 off their purchase if they buy tires online.
Free Wheel Alignment Inspection and Tire Rotation – Visitors to the Big Brand Tire website can download a coupon for a free computerized wheel alignment and tire rotation. Big Brand Tire will honor the coupons at any of their many locations in Los Angeles and Ventura counties.
Big Brand Tire has been servicing tires in Santa Barbara and Thousand Oaks for over forty three years. The company's mission statement states that Big Brand Tire's goal is "to be recognized as the best one-stop tire and auto repair provider" and they pride themselves on offering the best prices on the most popular brands, including Goodyear, Michelin, Firestone, Cooper and many others.
To buy car tires online has become a very common practice in recent years. Customers who look to buy cheap tires online have found Big Brand Tire to be a very dependable source. The company has been selling online for many years with much success in selling tires in Santa Barbara, Thousand Oaks and the surrounding areas.
The company is no stranger to other auto services as well. Big Brand Tire offers high quality work on brakes, alignments, oil changes, suspensions and more. They readily offer a range of free inspection services, rather than charging customers to discover that nothing is wrong with their vehicle.
To learn more about Big Brand Tire and their current offers, visit their official website at http://www.BigBrandTire.com.