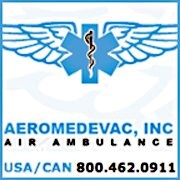 Aeromedevac is now offering domestic and international air ambulance services. Full details are available online at www.aeromedevac.com.
San Diego, CA (PRWEB) September 18, 2013
Aeromedevac, a leader in medical flights and air ambulance services, is now offering flights internationally for their customers, for both emergency and non-emergency situations. The company has been successfully serving the southwestern United States for over twenty years and now all international locations outside of the United States. The California air ambulance company specializes in emergency medical flights to and from Mexico.
Aeromedevac is an air ambulance service provider and a founding member of the International Air Ambulance Association, also known as the IAAA. The company has been providing California air ambulance services and medical flights for many years, setting the standards and regulations for air ambulance travel. They are also EURAMI certified, an organization which lays out strict regulations and procedures for the safety of fixed wing and roto wing air ambulance transport. Aeromedevac uses a combination of both fixed wing and roto wing transports for their services.
Aeromedevac prides itself on offering the highest quality service to their customers. Their web site states that they can be "wheels up" within 90 minutes of an emergency call. The web site also provides detailed information and guides for use by case managers, patients, family members and travel coordinators who may be in need of medical flights or air ambulance services, both foreign and domestic. The company is driven to make sure that everyone who takes their service is well informed.
With the availability to other countries, Aeromedevac will be poised to grow in further in their popularity. The company has a twenty-four hours a day availability and intends to keep it that way. Their mission is to make sure that everyone who needs emergency assistance, air ambulance service and medical flights will be able to receive the service, no matter where they may be or when the emergency situation may occur. Aeromedevac utilizes a highly trained and skilled squad of pilots, flight coordinators and assistants that assure customers their safety on every ride.
To learn more about medical flights and air ambulance services provided by Aeromedevac, please visit their web site at http://www.aeromedevac.com.