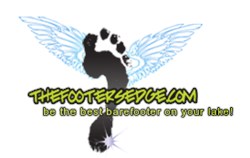 The Footer's Edge has released a new complimentary eBook that aims to teach the world how to barefoot water-ski. The book is available online at www.thefootersedge.com.
Winter Haven, FL (PRWEB) September 18, 2013
The Footer's edge, an online retailer of barefoot water skiing and wakeboarding equipment, has released a new comprehensive barefooting eBook. The publication features advice, tips and tricks for beginners, intermediates or advanced water skiers. The goal of the eBook is to promote the ever-growing sport of wakeboarding and water skiing while simultaneously offering safety information to interested parties.
The eBook is 170 pages in length and spans over 40 chapters. It covers a wide range of topics, including barefoot waterskiing basics, wakeboard towers, and safety tips for any kinds of conditions and situations. The book also covers a wide range of tricks that can be done while wakeboarding or barefoot waterskiing. The Footer's Edge has designed the eBook to be useful for all audiences and not just tailored to new members of the sport.
Visitors to their website will also be offered free video tutorials for more in-depth knowledge. Video tutorials have tested very well in similar sports tutorials and The Footer's Edge has utilized the option for barefoot waterskiing and wakeboarding with high quality videos of their own. Users of the website will now be able to see the tricks in action before attempting them for themselves.
The Footer's Edge has been dedicated to the sport of water skiing for many years, providing customers with a wide selection of discount equipment and advice products, including wakeboard towers, extended pylons, handles, ropes and wetsuits. Visitors can also read the company's blog for free advice and news from the wakeboarding community.
The sports of wakeboarding and barefoot waterskiing have been growing in popularity in recent years. More and more companies and organizations are selling products and services to those interested in trying out the new sport. When newcomers to the sports are equipped with the right knowledge, statistics show that fewer injuries are likely to occur. The Footer's Edge believes that their guide is the perfect option for beginners, intermediates or even advanced wakeboarders and water-skiers.
To learn more about barefoot waterskiing and wakeboarding, and to request a free copy of The Footer Edge's new eBook, visit their web site at http://www.thefootersedge.com.