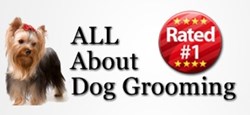 Professional dog grooming classes now available online with a $50 discount from Learn to Groom at www.learntogroom.com.
Jacksonville, FL (PRWEB) September 29, 2013
The professional dog groomers at Learn To Groom are now offering their dog groomer training course at $50 off the regular price. Those who purchase the product can learn dog grooming on their own schedule by purchasing the DVD and training set, now available for $249.95 through the company's website. This is the lowest price they have offered since the package was made public some years ago. The package also comes with bonuses, including free marketing materials and reference charts.
Learn To Groom has been a popular option in recent years for people looking to start a dog grooming business. The tutorials and guides that come with the program are designed to cover all bases of dog groomer training. Some customers report fantastic results just in grooming their own dogs, but many others also report success in starting their own dog grooming companies.
The 8-Hour-long DVD set and training manual also features tips and tricks that go above and beyond the complexities of cutting hair and basic dog grooming. The program offers information on how to check a dog for a number of ailments and illnesses, parasite control, appropriate grooming tools as well as offering three different proven business start-up strategies for success in starting a dog grooming business. A toll-free number is also provided for one on one consultations. The dog groomer course is designed to be studied over the course of a few months, but home study students are invited to set their own schedule and pacing based on their needs and what makes them most comfortable.
Dog groomer training has gained great popularity over the past few years. Many people are discovering how easy and rewarding it can be to start a dog grooming business. Those that launch their business with the right professional training are much more likely to succeed in the long run. Based on the testimonials on the company website, Learn To Groom has had much success in training new dog groomers.
To learn more about the company and their dog groomer training course, visit http://www.learntogroom.com.